Weekend Box Office: The Jungle Book Three-peats, Mother's Day Gets Forgotten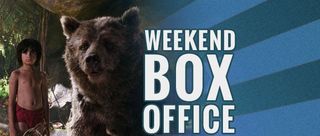 Summer blockbuster season gets underway next weekend with the arrival of Captain America: Civil War, but in the final April weekend things were less than exciting. Three new movies landed in theaters this weekend, but none were able to do better than $10 million, much less unseat last weekend's top movies.
The Jungle Book held strong to first place, dropping just over 30%, and adding $42 million to its now $252 million total. That puts it well ahead of where strong performer Zootopia was on its third weekend, but well behind the year's top performer-to-date, Deadpool. The Huntsman: Winter's War narrowly held on to second place, banking just $9 million.
As a director Garry Marshall has made some decent contributions to the world of entertainment. He created Happy Days, launched Anne Hathaway's career by casting her in The Princess Diaries, and made Julia Roberts a household name with Pretty Woman. But his career has had its low points too, and I'm not just talking about putting Rosie O'Donnell on screen in bondage leather. Most recently he subjected audiences to two unnecessary pieces of holiday drivel, Valentine's Day and New Year's Eve in 2010 and 2011 respectively.
After that, things seemed mercifully quiet from the Marshall movie front, a pause that ended this weekend with the arrival of his newest holiday debacle, Mother's Day. Critics panned it, but somehow it still made $8 million, no doubt thanks to Jennifer Aniston, Jason Sudeikis and the aforementioned Ms. Roberts. If Marshall is planning a series of holiday themed comebacks, Father's Day seems the next illogical step, but audience participation is going to have to improve. With a reported $25 million production budget Mother's Day may be the end of the holiday line.
The top newcomer, Keanu, opened at number three with $9 million. The first feature film foray for comedy team Key and Peele fared well with critics (75% at Rotten Tomatoes), but audience enthusiasm was just barely enough to assure the movie will end up mildly profitable against a reported $15 million production budget.
If you played on a PlayStation 2 in the early 2000's you may vaguely recall being excited about a game called "Ratchet & Crank". You clearly didn't recall it well enough to be excited about a movie version released this weekend, and you were in good company. The video game movie adaptation continued the time honored trend of failed video game movie adaptations by tanking to the tune of $4 million for a seventh place debut.
For the full weekend top ten, check out the chart below:
1.
The Jungle Book (2016)

$42,439,000Total: $252,095,800LW: 1
THTRS: 4,041
2.
The Huntsman: Winter's War

$9,390,000Total: $33,986,025LW: 2
THTRS: 3,802
3.
Keanu *

$9,350,000Total: $9,350,000LW: N
THTRS: 2,658
4.
Mother's Day *

$8,302,319Total: $8,302,319LW: N
THTRS: 3,035
5.
Barbershop: The Next Cut

$6,125,000Total: $44,705,640LW: 3
THTRS: 2,310
6.
Zootopia

$5,006,000Total: $323,518,489LW: 4
THTRS: 2,487
7.
Ratchet & Clank *

$4,823,000Total: $4,823,000LW: N
THTRS: 2,891
8.
The Boss

$4,250,000Total: $56,111,125LW: 5
THTRS: 2,823
9.
Batman v Superman: Dawn of Justice

$3,810,000Total: $325,132,593LW: 6
THTRS: 2,330
10.
Criminal (2016)

$1,325,000Total: $13,476,167LW: 7
THTRS: 1,578
Your Daily Blend of Entertainment News
Thank you for signing up to CinemaBlend. You will receive a verification email shortly.
There was a problem. Please refresh the page and try again.