Why The Jungle Book Needs To Win Best Visual Effects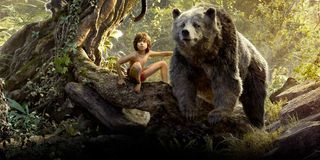 There are certain aspects of the filmmaking process that we want to be able to identify while watching a movie, such as great writing or a solid performance. Visual effects need to be more subtle than that. When we see a fantastic battle or a magical creature, we want to give ourselves over to the fantasy and let the movie sweep us away; we do not want to look for cracks in the animation or try to figure out how a filmmaker pulled off an effect. No movie that hit theaters in 2016 epitomized that idea more than Jon Favreau's The Jungle Book, and that's why it deserves to walk away with the Best Visual Effects Oscar when the Academy Awards ceremony airs on Sunday night.
I'm going to lay this out in the simplest way possible: I had no idea that The Jungle Book was primarily filmed on a blue screen stage until long after seeing the movie, and I have a feeling that plenty of you felt the same way. Almost everything -- from the grass to the animals to the ruins that Mowgli wanders through -- was completely fabricated by the crew using advanced digital effects. The film's crew literally created an entire world around Neel Sethi that he never even saw during the filming process, and ultimately convinced us that it was a living, breathing jungle. That's the epitome of perfect visual effects work in action.
Need more proof? Check out this behind the scenes video from The Jungle Book set to see just how much of the movie was created using cutting-edge CGI techniques.
It is worth mentioning that there's also precedent for this school of thought to guide The Jungle Book to victory at this year's Oscar ceremony. When selecting a movie that's worthy of the highly-coveted award, there are two considerations that Academy voters must take into account. First, there is "consideration of the contribution the visual effects make to the overall production." Secondly, there they must think about "the artistry, skill and fidelity" involved. When compared to the rest of the competition, I do not know how any other film can win. The Jungle Book is one long visual effect that manages to completely convince the audiences that it is a purely organic world for its entire runtime. It pushes the whole field of Visual Effects work forward in entirely unprecedented ways, and its contribution to the creation of cinematic landscapes is going to be felt for years to come.
The Jungle Book will undoubtedly face some seriously stiff competition this year in the Best Visual Effects category. Movies like Rogue One and Doctor Strange were visual delights, and Kubo and the Two Strings proved to be a masterclass in stop-motion animation -- although in that regard, I would argue that Kubo is more deserving of Best Animated Feature instead of Best Visual Effects. However, The Jungle Book is the nominated film that comes the closest to seamlessly blending reality with fiction. As much as I enjoyed the Tarkin CGI resurrection in Rogue One and the mind-bending magical effects in Doctor Strange, there was never a doubt in my mind as to which effects occurred in-camera and which effects occurred in a computer. The Jungle Book arguably comes closer than any other movie in the history of film to completely eliminating the "uncanny valley," and that is something that deserves recognition. Not even the mighty Star Wars franchise could pull that off.
What do you think? Does The Jungle Book deserve the Best Visual Effects Oscar, or does that honor belong to another film? Let us know what you think in the comments section below!
Your Daily Blend of Entertainment News
Originally from Connecticut, Conner grew up in San Diego and graduated from Chapman University in 2014. He now lives in Los Angeles working in and around the entertainment industry and can mostly be found binging horror movies and chugging coffee.