23 Live-Action Fairy Tale Movies You're Getting, Whether You Like It Or Not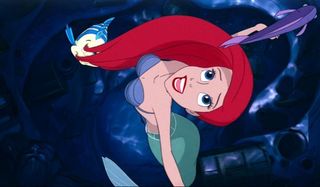 Fairy tales. They are among the oldest stories that survive in our culture. They are some of the earliest stories that we hear, and the ones that we remember. Beginning in 1937 and running more or less to the present day, Walt Disney Animation began to turn many of these classic tales into feature films. Since then, multiple generations have grown up with these films, and for many audience members, Disney has made the definitive version of these ageless stories. At this point, the definition of the term "fairy tale" is essentially, "An animated movie made by the Walt Disney Company."
Now that Disney has turned every story ever written into an animated feature, they've now begun to remake each of them as a live action film, as well. However, most of these stories are so old that they're in the public domain, and Disney isn't the only studio that noticed how much money fairy tale movies can make. This means that not only are there more fairy tale films in development than you can count, in several cases, there are multiple studios working on the same property. How can you keep it all straight? Here's every single fairy tale movie we could track down (that we're not sure isn't dead). Clear your calendars!
Jungle Book
Didn't we just see The Jungle Book? Oh right, this is a different one. Previously Jungle Book: Origins, the film has apparently been retitled as simply Jungle Book. While Disney's version used simple computer animation, Origins will be using full motion capture to try to bring a new level of life and expression to the characters. To that end, Warner Bros. hired a motion capture expert, Andy Serkis, to direct the film as well as play the role of Baloo the bear. Waiting more than two years after Disney's try will hopefully be enough time for people to want to see this story again.
Release Date: October 18, 2018
Mulan
Mulan has become one of Disney's most popular princesses, mostly for being a heroine who breaks the mold for Disney. She's not driven by love, and she doesn't need a prince to save her. She does the saving. It's no wonder that Disney would look to the story for one its remakes. Fun fact: Ming-Na Wen, Agent Melinda May from Agents of S.H.I.E.L.D., was the voice of the original character. Any reason she couldn't play the remake in the live-action version? She already kicks butt. Hey Disney, I just did the heavy lifting for you. We recently learned that Mulan will not be a musical but that's about all we know about the film that's currently set to debut in 2018.
Release Date: November 2, 2018
Cruella
Disney struck gold with a movie from the villain's perspective with Maleficient, so they'll be going back to the well with the similarly themed, and titled, Cruella. As Disney had already done a pair of 101 Dalmatians live action films several years ago, with Glenn Close as the fashionista evil-doer, the new version has cast Emma Stone in the role, and will instead focus on the character's early days, and what made her the character we know and love...to hate. Glenn Close is acting as a producer of the new film which is being written by Kelly Marcel (Saving Mr. Banks) and Jez Butterworth (Black Mass). Most recently it has seemed that Mozart in the Jungle's Alex Timbers has been in talks to direct, and if that happens this one could go into full production later in 2017
Dumbo
Dumbo may be one of the strangest choices to transform into a live-action feature film, if only because it's barely an animated feature film. At just over an hour in length, it's difficult to even justify the "feature" moniker. However, with Tim Burton planning to direct the film, we have to say, he never let the source material get in the way of making a beautiful, and epic, story. Most recently Dumbo has been in the news because casting is currently underway. Danny Devito and Tom Hanks are reportedly in talks for roles. Will Smith was also up for the lead, though it appears those discussions have ended without a deal.
Aladdin
Guy Ritchie is going to direct a Disney musical. This is a thing that is going to happen. While the story of a street urchin who makes it big may be very much the sort of thin we expect from Guy Ritchie, a Disney movie is not. Still, that's exactly what we're getting. The film is having an open audition for the leads so we expect we may very well see unknown actors make their big screen debut. It appears the plan is for Aladdin to follow in the footsteps of Beauty and the Bast and be a full musical. This one is starting out as wild as Tim Burton's Dumbo but we're ok with that.
The Lion King
While the announcement that Jon Favreau has been brought on board to do a live-action (read: realistically animated, not using actual lions) version of The Lion King is some of the most recent news on this list, the fact that the project is being fast-tracked means that we might actually see it long before many of the earlier films on this list. One gets the distinct impression that maybe The Jungle Book was really just an expensive proof of concept that was devised in order to discover if a remake of Disney's biggest animated film ever was, in fact, possible. It appears the experiment was a success. The Lion King is currently slated to film prior to Favreau's Jungle Book sequel and has already cast Donald Glover as the voice of Simba and has announced that James Earl Jones will reprise his role as Mufasa from the animated film, because who else would you get to replace him?
Maleficent 2
Maleficent wasn't necessarily the best movie, but it was a wholly remarkable one that included Angelina Jolie doing some of the best scenery chewing that we've seen in a long time. It also made a lot of money, which meant a sequel was very likely. Since the Sleeping Beauty story is over we have no idea where this one is going to go, but since the original purported to tell us the true story of the famous fairy, we're sure there's more we don't know. Recently it has been reported that Angelina Jolie is considering Maleficent 2 as her next project, so if that happens expect this one to start moving forward much more quickly.
Christopher Robin
It's been a while since Disney first announced their plans to use Winnie the Pooh as the source for one of these many live-action remakes. While most of Disney's plans for these movies involve either prequels or direct remakes, Winnie the Pooh appears to be different because it's being set up as a sequel, where an adult Christopher Robin goes in search of his old friends. This has now been reflected in the fact that the film will actually be called Christopher Robin. Most recently, World War Z director Marc Foster was reported to be the director of the project so this one appears to be moving ahead. We're guessing this one will end up looking very similar to The Jungle Book when all is said and done.
The Little Mermaid
While Universal may have been the first to the Little Mermaid story (more on that later), their stumble regarding the casting may be the perfect opportunity for Disney. Not only have they recently announced their own live-action version of the Hans Christian Anderson story, or more accurately, the Disney version of it, but it will include the biggest musical talent of the moment, Lin-Manuel Miranda, along with the composer of the original animated film, Alan Menken. It would seem that they're planning to go the Beauty and the Beast route and make this one a full musical production. Here's hoping Miranda can cast himself as Sebastian the crab. That needs to happen.
Prince Charming
While the Prince Charming movie is being produced by Disney, this one is looking to be somewhat less of a "Disney movie." The studio didn't commission the script, but rather, purchased it on spec. It's said to be a revisionist take on the idea of Prince Charming, and not really a story about any specific character. The name Prince Charming has been given to the characters of several stories, including Snow White, Cinderella, and Sleeping Beauty. We're imagining a character, not unlike the one in Bill Willingham's Fables comic. This sounds interesting.
The Sword in the Stone
We haven't heard a great deal about the live action The Sword in the Stone since it was announced about a year ago. What we do know is that Game of Thrones writer Bryan Cogman is involved. There's certainly an implication there that Disney's live-action The Sword in the Stone may have more in common with Excalibur than it does the Disney original. That's probably for the best with a modern audience. As long we get a special effects blockbuster wizard's duel, we're ok with that.
Tink
Reese Witherspoon has reportedly been tapped by Disney to play the lead role in Tink, a live action film that will focus on Peter Pan's possibly more famous sidekick. The screenplay is being handled by Victoria Strouse, who had the task of writing the script for Pixar's Finding Dory. The film is set to play with the timeline of the well known Peter Pan story, so this film could be a prequel, a sequel, or something in between. It's been over a year since this one was announced so we're not sure what's up with it. Still, it doesn't appear to be dead.
Tinkerbell
Not to be outdone, there's a second Tinkerbell movie planned, which is very much not the Disney story. Melissa McCarthy is attached to make a Tinkerbell movie for Fox. It's not clear exactly what kind of film this is. Nicholas Stoller, who is working on the script, has written everything from Neighbors 2: Sorority Rising to Muppets Most Wanted, so it's anybody's guess whether this will be a family-friendly fairy tale, or one only for adults. McCarthy is generally box office gold, so we'd expect this one to arrive on screen sooner rather than later.
Pinocchio
Another long-in-development project that has seen new life recently is Robert Downey Jr.'s plan to play Geppetto in a live-action version of Pinocchio. While the man inside the Iron Man suit obviously has a strong relationship with Disney, the studio that's been handling this project is actually Warner Bros. Both Ben Stiller and Paul Thomas Anderson had been attached to direct the film previously. After Anderson dropped out, Ron Howard signed on to direct. Still, it's been over a year since that happened and we haven't heard anything since. This one can't seem to stay down for long, so we're guessing it will begin to move forward sooner rather than later.
The Little Mermaid
The Little Mermaid was the movie that launched Disney's renaissance in 1989, so it's surprising that the first studio to the line with a live-action film version of the story was actually Universal. Sofia Coppola left the director's chair, but the studio looks to have a replacement on the hook, which wouldn't have slowed things down if that was the only issue. Kick-Ass and 5th Wave actress Chloe Grace Moretz was attached to star in the lead role, however, it appears that she recently pulled out herself, so the future of this one is unknown. The Universal take looks to be a significantly darker version than the well-known Disney film, which is fitting, considering the Hans Christian Anderson tale is absolutely black.
Night on Bald Mountain
Of all the source material that Disney will be mining to make live-action movies, this one might be the most unusual. Disney's Fantasia contained animated shorts combined with classical music. One of the most memorable was the animation that accompanied Modest Mussorgsky's "Night on Bald Mountain." Now Disney plans to turn the winged demon from that short into its own feature-length film. Matt Sazama and Burk Sharpless who co-wrote the scripts for Dracula Untold and The Last Witch Hunter together are working on the script. This one could be interesting if we ever see it.
Pinocchio
Robert Downey Jr. isn't the only one working on a Pinocchio movie. The tale of the wooden boy who wants to be a real one was Disney's second animated feature, and the Oscar-winning "When You Wish Upon a Star" has become the unofficial theme song for the entire company. Needless to say, this one is important to the studio. While we haven't heard anything about this film in over a year, as far as we know, Peter Hedges is still working on the screenplay. We don't expect the mouse house will giving up on this one until it's done.
Genies
Around the same time that Disney announced Winnie the Pooh, Pinocchio, and just about everything else on this list, they also announced Genies. Originally, Genies was set to be a live-action prequel that would eventually lead into a live-action version of Disney's classic Aladdin. Damian Shannon and Mark Swift, who wrote the screenplay for Freddy vs. Jason among others, were handling script duties on this one, which was supposed tell the story of how the Genie became trapped in the lamp to begin with. With the announcement that a live-action Aladdin is coming to the screen ahead of this, it's possible this project is being shelved, though no official announcement has been made. They could still follow Aladdin with a prequel if they were so inclined.
Rose Red
One fairy tale character who has been overlooked in recent generations, in large part because of Disney's version of Snow White and the Seven Dwarfs, is Rose Red. Many fairy tale fans may not be aware that Snow White even has a sister. Disney looks to be taking steps to rectify this oversight, with a movie based on the character, which is being set up as a sort of live-action companion to the animated original. The story will follow Rose Red as she attempts to wake her sister from the curse of the poison apple. It's an intriguing idea, which has a lot of promise. Now it needs some talent to get involved.
The Jungle Book 2
Just about as soon as The Jungle Book hit theaters Disney signed Jon Favreau to direct a sequel. The first film became one of the highest-grossing films of 2016. There's no wonder that Disney would want to lock in a sequel as soon as possible. There were three total books written by Rudyard Kipling, as well as a fairly terrible sequel to Disney's original animated film, so there certainly exists plenty of material on which to build a sequel. The announcement that Favreau is working on The Lion King first means it will be a while before this one sees the light of day, but with nearly a billion dollar box office take, we can be fairly certain that it will happen eventually.
Mulan
As stated at the beginning, most of these stories are public domain, meaning it doesn't cost any studio a penny to get the rights to any story. Thus, alongside Disney's plans to make a live-action Mulan, Sony has now announced that they will do the same. While the Disney film will certainly be a live-action version of the Disney animated film, Sony is planning a movie that follows closer to the original Chinese legend. In addition, the plan is for the film to shoot in China and use a mostly Chinese cast.
Peter Pan
Peter Pan has seen plenty of live-action adaptations already. From Steven Spielberg's adult Pan in Hook to the recent trainwreck in film form that was Pan. There will be at least one more in between now and the heat death of the universe. Disney has decided that if you want something done right, you need to do it yourself. They'll be producing their own live-action Peter Pan from the same team that brought us the recent Pete's Dragon. Maybe the Disney pixie dust will make this one the hit that the others have only tried to be.
Snow White
Finally, we'll end this massive list where Disney began. In additon to making a film about Snow White's lesser known sister, the Mouse House is also planning a live-action musical based around the company's inaugural feature-length animated film. New music will be written by Benj Pasek and Justin Paul who were involved in the production of La La Land so it's clear that Disney is looking to make this movie as big as Beauty and the Beast. Erin Cressida Wilson who wrote the script for The Girl on the Train is handling the screenplay. Whether this film will be related to the Rose Red idea is anybody's guess at this point.