Weekend Box Office: The Lego Movie Has An Awesome Weekend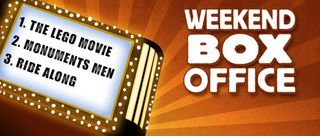 There have been plenty of movies and video games done in the Lego style, from Batman to Harry Potter to Star Wars, but it wasn't until someone finally figured out just how awesome Legos were on their own merit (but, you know, including Batman and Harry Potter and everything else) that the concept blew the doors off the box office.
Marking the biggest opening of the year so far, The Lego Movie banked a $69 million number one opening, the second largest ever debut for the month of February behind the $83 million opening of The Passion of the Christ. Just how big is that? Pixar big, ranking right up there with openings like The Incredibles and Up.
The Monuments Men made a somewhat more modest splash, banking $22 million for second place. That's a lower total than expected, leaving the movie some ways to go to cover it's star studded $70+ million budget.
The vampire genre has been worn thin for some time now, so anyone coming to the floor with something new had to be bringing something really novel and exciting to draw attention. Vampire Academy failed on all fronts and opened in seventh place with just $4 million.
For the full weekend top ten totals, check out the chart below:
1.
The LEGO Movie *

$69,110,000Total: $69,110,000LW: N
THTRS: 3,775
2.
The Monuments Men *

$22,700,000Total: $22,700,000LW: N
THTRS: 3,083
3.
Ride Along

$9,394,000Total: $105,167,000LW: 1
THTRS: 2,800
4.
Frozen

$6,914,000Total: $368,678,000LW: 2
THTRS: 2,460
5.
That Awkward Moment

$5,540,000Total: $16,848,000LW: 3
THTRS: 2,809
6.
Lone Survivor

$5,293,000Total: $112,580,000LW: 5
THTRS: 2,869
7.
Vampire Academy *

$4,101,000Total: $4,101,000LW: N
THTRS: 2,676
8.
The Nut Job

$3,809,000Total: $55,082,000LW: 4
THTRS: 3,004
9.
Jack Ryan: Shadow Recruit

$3,600,000Total: $44,469,000LW: 6
THTRS: 2,139
10.
Labor Day

$3,230,000Total: $10,172,000LW: 7
THTRS: 2,584
Your Daily Blend of Entertainment News
Thank you for signing up to CinemaBlend. You will receive a verification email shortly.
There was a problem. Please refresh the page and try again.