Weekend Box Office: MIB 3 Lands Memorial Day Victory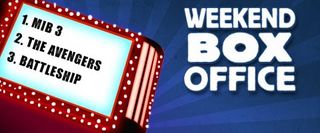 Hopefully you're spending at least a little time this Memorial Day in remembrance, prayer, or silence for the men and women who have served our nation in time of war and peace. And if you're like many Americans you're spending part of your four day weekend at the movies (as an added kindness, if you see someone in uniform, offer to buy their ticket!).
Estimates for the Memorial Day holiday weekend box office show a strong opening for MIB 3. A total of $70 million for the 4-day opening handed the sci-fi sequel an easy number one, finally dethroning three week champion The Avengers.
While the number one debut is a welcome start, it's no improvement from MIB 2. MIB 3's regular 3-day debut (Friday to Sunday) was $55 million, almost exactly the same amount MIB 2 banked when it arrived in theaters. But when you roll in inflation and the price of IMAX/3D screens, there were notably fewer bodies in seats for the latest entry in the franchise.
The other major new release this weekend, Chernobyl Diaries, settled for sixth place with just $9 million. The second movie from writer/director Oren Peli, Diaries looks to be a disappointment compared with his previous effort, surprise hit Paranormal Activity. That movie earned nearly twice as much on its wide-release weekend and held audiences attention to the tune of $108 million in total US sales. Diaries is up against a flood of major new releases on their way in the coming weekends, and is set to die out fast and quiet.
For the full four-day Memeorial holiday weekend top ten, check out the chart below:
1.

MIB 3 *
$70,000,000
Total: $70,000,000
LW: N WR: 1
THTRS: 4,248
2.

Marvel's The Avengers
$46,878,000
Total: $523,563,000
LW: 1 WR: 4
THTRS: 3,918
3.

Battleship
$13,769,000
Total: $47,274,000
LW: 2 WR: 2
THTRS: 3,702
4.

The Dictator
$11,755,000
Total: $43,603,000
LW: 3 WR: 2
THTRS: 3,014
5.

Dark Shadows
$9,405,000
Total: $64,888,000
LW: 4 WR: 3
THTRS: 3,404
6.

Chernobyl Diaries *
$9,300,000
Total: $9,300,000
LW: N WR: 1
THTRS: 2,433
7.

What to Expect When You're Expecting
$8,850,000
Total: $23,871,000
LW: 5 WR: 2
THTRS: 3,021
8.

The Best Exotic Marigold Hotel
$8,225,000
Total: $18,428,000
LW: 6 WR: 4
THTRS: 1,233
9.

The Hunger Games
$2,850,000
Total: $395,859,000
LW: 7 WR: 10
THTRS: 1,421
10.

Think Like a Man
$1,800,000
Total: $88,672,000
LW: 8 WR: 6
THTRS: 786
Your Daily Blend of Entertainment News
Thank you for signing up to CinemaBlend. You will receive a verification email shortly.
There was a problem. Please refresh the page and try again.