Weekend Box Office: New Movies Get Stockings Full of Coal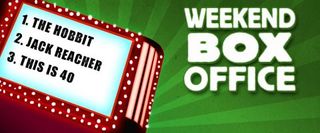 With Christmas right around the corner and American audiences perhaps slightly more distracted by the specter of having just one weekend left to finish getting those last minute gifts, movie theaters were relatively quiet. That left four new arrivals with stockings full of coal at the pre-holiday box office.
Tom Cruise's Jack Reacher was the top new comer, banking just $15 million. Not only was that a weak start against its modest $60 million, it meant a distant second place debut behind The Hobbit: An Unexpected Journey which held on to the number one spot for a second weekend in a row, adding $36 million to its now $149 million domestic total.
This is 40 middle-aged its way into third place with just $12 million. Writer/Director Judd Apatow might not have been too thrilled by that debut (it marks his first movie to not make at least $20 million on its opening weekend) but he had more to celebrate that his friend Seth Rogen. Rogen, who teamed with Barbara Streisand for The Guilt Trip, saw a painfully weak opening of just $5 million for sixth place.
Guilt Trip did manage to at least edge out Disney/Pixar's 3D re-release of Monsters, Inc.. Whether the animated re-hash was intended to generate excitement or capitalize on the upcoming sequel to make a little extra cash, it was a disappointment either way. It managed to be the worst such 3D re-release to date for Disney and is the latest in a series of decreasingly successful 3D re-launches.
For the full pre-holiday weekend top ten, check out the chart below:
1.

The Hobbit: An Unexpected Journey
$36,705,000
Total: $149,858,000
LW: 1 WR: 2
THTRS: 4,100
2.

Jack Reacher *
$15,600,000
Total: $15,600,000
LW: N WR: 1
THTRS: 3,352
3.

This Is 40 *
$12,031,000
Total: $12,031,000
LW: N WR: 1
THTRS: 2,912
4.

Rise of the Guardians
$5,900,000
Total: $79,694,000
LW: 2 WR: 5
THTRS: 3,031
5.

Lincoln
$5,633,000
Total: $116,781,000
LW: 3 WR: 7
THTRS: 2,293
6.

The Guilt Trip *
$5,390,000
Total: $7,421,000
LW: N WR: 1
THTRS: 2,431
7.

Monsters, Inc. (3D) *
$5,040,000
Total: $6,525,000
LW: N WR: 1
THTRS: 2,618
8.

Skyfall
$4,700,000
Total: $279,972,000
LW: 4 WR: 7
THTRS: 2,365
9.

Life of Pi
$3,800,000
Total: $76,156,000
LW: 5 WR: 5
THTRS: 1,750
10.

The Twilight Saga: Breaking Dawn Part 2
$2,600,000
Total: $281,606,000
LW: 6 WR: 6
THTRS: 2,000
Your Daily Blend of Entertainment News
Thank you for signing up to CinemaBlend. You will receive a verification email shortly.
There was a problem. Please refresh the page and try again.