Weekend Box Office: Mr. Peabody & Sherman Takes Top Spot, Need For Speed Stuck In Low Gear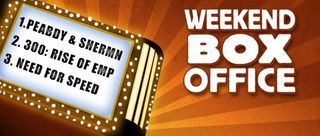 Last weekend animated feature Mr. Peabody & Sherman took a distant second place to 300: Rise of An Empire, but fortunes were switched this week. Rise fell almost 60%, banking just $19 million for second place while Mr. Peabody & Sherman slipped only 35%, earning $21 million and narrowly edging into the top spot.
Both veterans of last weekend topped newcomer Need for Speed which took in just $17 million for a disappointing third place start. In a world where the Fast & Furious franchise is churning out a new movie every other year or so, there's apparently not much demand for any newcomers to the genre, not even ones starring Jesse from Breaking Bad.
It was a rough weekend for Tyler Perry. His latest offering is the first movie of his ever to debut in single digit millions. Tyler Perry's The Single Moms Club bowed in at number five with $8 million, the lowest of the actor/writer/director's career to date.
Expanding to just 66 venues but still edging into the top ten, The Grand Budapest Hotel took in over $55,000 per location to bank $3 million. That was almost double what the new Veronica Mars managed on at 291 theaters. With just over $2 million it came in at number ten, just tens of thousands of dollars ahead of missing the top ten altogether. That's not bad for a major feature bankrolled by fans on a $6 million budget, but still not promising for folks hoping to see the TV-series-turned-movie converted to film franchise.
You'll be able to watch Frozen from the comfort of your own home in just two days, but that didn't keep people from getting out to see it in theaters this weekend. Now in week seventeen, Frozen has been in the top ten three weeks longer than Avatar, but while the animated feature hasn't made as much money, it's still just shy of $400 million and is only $13 million away from Iron Man 3, the second highest grossing movie released in 2013.
For the full weekend top ten, check out the chart below:
1.
Mr. Peabody & Sherman

$21,200,000Total: $63,180,000LW: 2
THTRS: 3,951
2.
300: Rise of An Empire

$19,105,000Total: $78,311,000LW: 1
THTRS: 3,490
3.
Need for Speed *

$17,808,000Total: $17,808,000LW: N
THTRS: 3,115
4.
Non-Stop

$10,615,000Total: $68,805,000LW: 3
THTRS: 3,183
Swipe to scroll horizontally
5.
Tyler Perry's The Single Moms Club *
$8,300,000
Total: $8,300,000
LW: N
THTRS: 1,896
6.
The LEGO Movie

$7,705,000Total: $236,932,000LW: 4
THTRS: 3,040
7.
Son of God

$5,400,000Total: $50,875,000LW: 5
THTRS: 2,990
8.
The Grand Budapest Hotel

$3,640,000Total: $4,779,000LW: 17
THTRS: 66
9.
Frozen

$2,117,000Total: $396,356,000LW: 8
THTRS: 1,466
10.
Veronica Mars *

$2,021,000Total: $2,021,000LW: N
THTRS: 291
Your Daily Blend of Entertainment News