Every Wes Anderson Movie, Ranked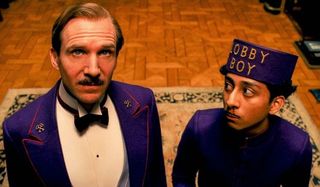 Wes Anderson has a devout audience. Most casual moviegoers (those who are mainly interested in blockbuster, multiplex fare) admittedly haven't heard of him, though more passionate cinephiles have watched his career ebb and flow in a beguiling, not always riveting, fashion.
That hasn't stopped movie hipsters from taking him as their own, though. In fact, they often look to prove that they're bona-fide experts by holding Anderson up to a ridiculously high level of esteem. More often than not, Anderson has delivered, though. He's done this by not only creating unique but vivid cinematic worlds, but by also evolving as a filmmaker. Plus his pitch-perfect musical choices, and blending of European art-house traits with a stylish, modern viewpoint have helped to set him apart too.
But which Wes Anderson films are as beautiful as a crayon pony fish? And which are as frustrating as the hardest geometry problem in the world? Take a gander at my ranking of every Wes Anderson film below. You can furiously disagree in the comments.
8. Moonrise Kingdom
One of Wes Anderson's most cherished tales, Moonrise Kingdom has been described as an "eccentric pubescent love story." His seventh film to be released, it possesses most of the hallmarks that we associate with an Anderson picture. There's a huge ensemble of perfectly cast, quirky but relatable characters, each of which are delightfully driven, triumphantly un-cynical and strive to be stoic in the face of great emotion, while he uses Rhode Island to create a seldom seen but recognizable world.
However, Moonrise Kingdom falters because it lacks the pace or intriguing plot of his other films. Obviously, Moonrise Kingdom was always meant to be a simple love story. But Anderson's style and characterization doesn't lend itself to this structure in a compelling fashion. Instead, the film repeatedly stalls. Jokes fall flat, characters seem too outlandish, and Anderson fails to provide his usual exuberant visuals to cover up for its failings. Still, there's plenty to enjoy about Moonrise Kingdom, and it proves that even a mediocre Wes Anderson film is better than half of the rubbish that Hollywood releases every year.
7. The Life Aquatic
Recognized in some circles as Wes Anderson's worst film to date, The Life Aquatic eclipses Moonrise Kingdom (in my opinion) because it proudly wears its heart on its sleeve. It features some of the director's most emotional scenes to date (especially -- SPOILER ALERT -- the death of Owen Wilson's Ned Zissou and the discovery of the Jaguar Shark) while it also marks the filmmaker's first foray into stop-motion… something he'd use to extraordinary lengths later in his career. And there is certainly enough humor and quirkiness to please even the most casual of Anderson devotees.
But there's no denying the fact that its lackadaisical pace, unrealized characters and ponderous plot make it hard to invest fully. Plus, The Life Aquatic isn't as funny as it thinks it is and, at times, Anderson borders on the self-indulgent.
Still, the film's unique soundtrack, meandering narrative, and a stand-out performance from Jeff Goldblum still make The Life Aquatic eminently watchable. In fact, if you let your inhibitions go and truly embrace the world, there is plenty to enjoy and be fascinated by.
6. The Darjeeling Limited
Wes Anderson's love letter to the films of Satyajit Ray. This saw him travel to India (Jodhpur, to be precise) to film The Darjeeling Limited. And by making this excursion, he was truly able to evoke the humidity, confusion and claustrophobia that the country has to offer, and it lends itself delightfully to his approach.
Anderson also juxtaposes film scores from Ray's films with his usual blend of British guitar rock to create an intriguingly uneven but nevertheless catchy backbone that the film ebbs and flows to. Anderson's script is packed with wit and intrigue, while Owen Wilson, Jason Schwartzman and Adrien Brody bounce off of each other with aplomb as the film's equally flawed by truly caring brothers. The Darjeeling Limited is flawed. It's self-important, touches upon the same themes and subject matter (sibling relationships, abandonment and the upper class) that Anderson has covered before, regurgitates his style and leaves you feeling empty and a tad unfulfilled.
Despite all of these issues, it's still oddly beautiful. I'm not really sure why. But that's part of its beauty.
5. Fantastic Mr. Fox
George Clooney never sounded better as Mr. F.F. Fox, the wonderfully charismatic and ridiculously confident protagonist in Wes Anderson's stop-motion adaptation of Roald Dahl's beloved children's book.
Clooney takes Fantastic Mr. Fox by the scruff of the neck and provides it with a relentless energy and warmth that permeates throughout the entire picture. Of course, the fact that Meryl Streep, Jason Schwartzman, Bill Murray, Willem Dafoe, Owen Wilson and Michael Gambon interject with their voices also helps.
Anderson uses Dahl's book as a starting point, creating a new beginning and ending for the story, and miraculously creates a wonderfully vibrant world that is still respectful to its source material. The stop-motion sometimes stagnates the film's pace and energy, but it helps to make the film enticingly scruffy, along with its stale palette of dirt and dying leaves. Anderson's decision to film audio outside rather than in a studio also provides a real earthiness.
Perhaps a tad uneven, especially when Anderson's story tries to blend into the novel, Fantastic Mr. Fox is still wonderfully whimsical, universally appealing, wholly satisfying, and the director's funniest film to date.
4. Bottle Rocket
Danny Boyle has a theory that every director's first film is their best. Why? Because it features a freshness that they will never replicate. It's not a theory that I fully endorse. In fact, I think there's a catalogue of evidence that proves the filmmaker wrong. But with Bottle Rocket, I can start to see where Boyle is coming from.
That's because Bottle Rocket's naivety is pretty much plastered on-screen. Anderson, who co-wrote the film with its lead star -- the since seldom heard from Owen Wilson-- has a clear affection for each of his characters that is shown through an un-cynical lens, which you can't help but connect with. In fact, the film's trifecta of lead characters (Dignan, Anthony and Bob) and their story of trying to find danger in order to feel alive are so preposterously human that it borders on the un-cinematic.
But while Bottle Rocket lacks the visual flair that would later become a hallmark of Anderson's career, he packs the film with such rich moments of genuine warmth and simplistic joys that you immediately sympathize with their plight. The fact that Bottle Rocket happens to be genuinely laugh-out-loud funny and packed with heart means that you're along for every step of the ride with them, too. Don't believe me? Then just listen to Martin Scorsese then.
3. The Royal Tenenbaums
While Bill Murray is widely regarded as the quintessential Wes Anderson actor, I'd say that Gene Hackman is Anderson's ideal leading man. Hackman embodies all of the characteristics that the director looks for in this field. He's terrifyingly fierce, has a magnetic yet mysterious screen presence, and can go from heartfelt to humorous in a heartbeat. In The Royal Tenenbaums, Hackman uses all of these traits to be an all-round bastard, but one you still can't help but root for. And without him, the film would fail.
The Royal Tenenbaums is Anderson's attempt to tell the story of a grandiose American family that, despite their genius, is falling apart at the seams. It's heavily inspired by Orson Welles' The Magnificent Ambersons, and it is the closest anyone has come in the last two decades to re-creating the Golden Age of Hollywood with a modern sheen.
It's also perfectly structured and rhythmically paced, rich with emotion, pathos and humor, and awash with stand-out performances. Anderson's most fully-realized and accomplished, but not yet completely satisfying or original, work.
2. The Grand Budapest Hotel
The Grand Budapest Hotel is Wes Anderson truly having fun with the camera as a director. Sequences are longer than they should be, jokes are more blatant and crude… even each of the performers seems to have been given free reign to be as outlandish as they desire.
You'd have thought his might resulted in a hodge-podge of mediocrity, but these elements gel together perfectly to create a truly evocative, funny and beguiling tale. Is this down to luck or talent? Probably a bit of both.
As per usual, Anderson is typically stylish, but he underlines this with several truly heartbreaking and intimate relationships. There's an iconoclastic and mythical aura surrounding The Grand Budapest Hotel that you can't help but get swept up in, while once again his posse of actors each deliver with aplomb when called upon. The Grand Budapest Hotel ferments with vital energy and intrigue throughout, and it suggests that Anderson's career is about to enter a new, exciting and more playful phase.
1. Rushmore
Bottle Rocketwas adored by everyone who saw it. There was just one problem: hardly anyone actually saw it. Anderson could have easily cowered over this apparent rejection, but instead, the director produced a brazen, pop-music-inspired coming-of-age tale that revolved around young love, friendship and ambition for his follow-up.
Despite the fact that its lead character, Max Fischer, is an utterly detestable loser, there's something innately hip about Rushmore. Anderson's impeccable choice of British Invasion music from the 1960s, as well as Fischer's love of cinema and unrelenting pursuit of love and ambition, each add to this aura. But it's really the patter between Bill Murray and Jason Schwartzman that gives Rushmore an edge.
With a $20 million budget, Anderson truly goes off the edge, deploying a whole host of cinematic tricks that Hollywood studios normal stifle. While Anderson was far from the first to utilize these movements, pans and framing options, no one had done so in such a wonderfully unique and modern setting, which instantly allowed him to become the poster boy for quirky, alternative filmmaking.
There's a debate to be had as to whether Anderson deserves such acclaim. But in my opinion, there's no denying the fact that Rushmore is dark, deft, poetic, laugh-out-loud funny and affecting film. It launched Anderson's cinematic voice, and did so in a fresh and endearingly simple way.
Disagree? Carry on...
This poll is no longer available.
Your Daily Blend of Entertainment News
Your Daily Blend of Entertainment News
Thank you for signing up to CinemaBlend. You will receive a verification email shortly.
There was a problem. Please refresh the page and try again.