The 10 Best Jeff Goldblum Movies, Ranked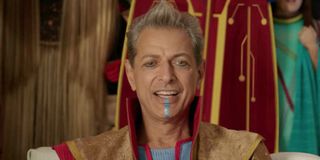 Aside from the well-known lead characters that have made him an onscreen icon, Jeff Goldblum also has a reputation for starring in smaller roles that often go overlooked in otherwise classic movies. He is that rare form of "that guy" in which when he surprises you by popping into frame, at least you can identify him.
Today, the lively 67-year-old has been everywhere since joining the MCU, hosting a Disney+ exclusive National Geographic docuseries, and reprising his role as Dr. Ian Malcolm in the second and upcoming third installment of the Jurassic World trilogy, inspiring us to look back on his eclectic, 40-plus-year filmography. With that in mind, we also ask the question, what is the best movie of Jeff Goldblum's career?
10. Independence Day (1996)
Director Roland Emmerich's UFO B-movie extravaganza was not the beginning of Jeff Goldblum's foray into science fiction, but it certainly was for Will Smith. However, Big Willie would have never been able to prove himself as one of Earth's greatest defenders against otherworldly forces if not for the discovery made by Goldblum's character.
Independence Day stars Jeff Goldblum as New York satellite technician David Levinson, who discovers an alien plan to attack Earth and eventually joins a young military pilot (Will Smith) in its defense against the enemy. Goldblum would reprise the role in a 2016 sequel that was not as critically or commercially successful, but would not tarnish the legacy of as one of Roland Emmerich's finest and most fun disaster movies.
9. Invasion of the Body Snatchers (1978)
Speaking of Jeff Goldblum and science fiction, the actor's first encounter with aliens had far fewer explosions or Will Smith. Yet, the 1978 update of Invasion of the Body Snatchers from acclaimed filmmaker Philip Kaufman is considered one of the greatest horror remakes of all time.
Jeff Goldblum stars opposite Donald Sutherland, who plays a public health inspector who discovers that the odd change in behavior among citizens of San Francisco is the result of alien pods replacing human beings one-by-one. A handful of survivors must stay together and stay awake to avoid such a fate in this timeless, horrifying tale known for its powerful social commentary on the devastating effects of delusional paranoia.
8. The Big Chill (1983)
Believe it or not, there is another connection to science fiction with this humorous drama starring Jeff Goldblum. The Big Chill is the second directorial effort of the co-writer of Star Wars: Episode V - The Empire Strikes Back, Lawrence Kasdan.
Jeff Goldblum is part of an ensemble cast of then thirty-somethings, including Glenn Close, William Hurt, and Kevin Kline, who play a group of former college friends reuniting after the death of a friend (an edited out, pre-fame Kevin Costner). Nominated for three Academy Awards, including Best Picture, The Big Chill is an often tear-jerking story that begs a rewatch as an '80s time capsule.
7. The Right Stuff (1983)
You may have heard of The Right Stuff, the adaptation of Tom Wolfe's book that chronicles the early development of the United States space program, which is apparently getting a reboot on National Geographic. However, you may not have realized that Jeff Goldblum, whose character does not have an official name, was in it.
Jeff Goldblum plays a recruiter tasked with inviting the country's most skilled pilots to be the first American astronauts. The Right Stuff is Goldblum's second collaboration with Invasion of the Body Snatchers director Philip Kaufman and his second film in 1983 alone to be nominated for Best Picture.
6. The Grand Budapest Hotel (2014)
Jeff Goldlbum re-teamed with director Wes Anderson a decade after his role in The Life Aquatic with Steve Zissou for the visual mastery and bizarre storytelling that is The Grand Budapest Hotel. This colorful caper follows the adventures of hotel concierge Gustave (Ralph Fiennes) as told through the eyes of bell boy Zero (Tony Revolori).
As the moustachioed lawyer put in charge of the late Madame D.'s (Tilda Swinton) estate, it is no brainer why an actor with an eccentric personality like Jeff Goldblum would be perfect to star in the aggressively, but rewardingly, eccentric films of Wes Anderson. Fortunately, The Grand Budapest Hotel would not be their last collaboration.
5. Thor: Ragnarok (2017)
After all his time spent battling aliens, this MCU adventure saw Jeff Goldblum technically playing one. Of course, while The Grandmaster in Thor: Ragnarok is not the actor's first time playing an interplanetary being (1988 comedy Earth Girls are Easy), it is one of his most celebrated roles in recent memory.
The Grandmaster is the eccentric ruler of Sakaar who senselessly places random prisoners in deadly battles against his champion gladiator, Hulk (Mark Ruffalo), just as he does with Chris Hemsworth's Asgardian hero, unaware of their history. Jeff Goldblum's casting in this refreshing change of pace for Marvel's Thor series from director Taika Waititi was praised even before Thor: Ragnarok was released, and is still fondly discussed years after.
4. Isle of Dogs (2018)
Like I said, Jeff Goldblum would collaborate with Wes Anderson again. In fact, it would be in the filmmaker's direct follow-up to The Grand Budapest Hotel, this heartwarming stop-motion film with a homophonic title that sounds similar to the phrase "I love dogs."
In Wes Anderson's second animated feature, Isle of Dogs, Jeff Goldblum plays Duke, a motormouth husky banished with to a garbage-ridden island after Japan outlaw dogs. However, a young boy named Atari is dead set on finding his old furry friend Spots, prompting Duke and his friends to help him.
3. Annie Hall (1977)
Early into his career, Jeff Goldblum was already working with some of the most acclaimed filmmakers in Hollywood, including Woody Allen on the iconic comedy Annie Hall. However, this would also go down in history as one of the actor's more obscure roles.
Despite its acclaim and famous Best Picture at the 1978 Oscars against Star Wars, Annie Hall should barely qualify for this list as Jeff Goldblum's screen time only lasts a mere six seconds. Yet, his single quote spoken into a phone ("I forgot my mantra") has upheld an aura of mystery that only makes the actor's rather brief contribution to this classic all the more intriguing.
2. The Fly (1986)
Director David Cronenberg reimagined the 1958 B-movie of the same name into the body horror masterpiece, The Fly. Starring Jeff Goldblum as Seth Brundle, the inventor of a teleportation device that causes his slow transformation into a half-man/half-insect.
The Fly sees Jeff Goldblum in, arguably, his best performance, opposite his future one-time spouse Geena Davis, with the Oscar-winning makeup is so grotesque, you almost dread the anticipation of his next metamorphosis. It does exactly what a horror film should do: it keeps you afraid. Very afraid.
1. Jurassic Park (1993)
I may have a soft spot for Jeff Goldblum's performance in The Fly, but in the grand scheme of things, it is not the greatest cinematic achievement in his filmography. That would come seven years later with this masterpiece of suspense and revolutionary technical mastery from director Steven Spielberg.
In Jurassic Park, based on the novel by Michael Crichton, Jeff Goldblum plays Dr. Ian Malcolm, who successfully predicts a theme park featuring real dinosaurs will have deadly consequences after he and a handful of other scientists are invited to preview the attraction. This undisputed classic of popcorn cinema would go on to become the highest grossing film ever for a good period of time and has spawned multiple sequels, a couple of which have seen Dr. Malcom's welcome return.
Whether he is on screen for six seconds on the phone at a party, nursing his leg back to health while others run for their lives from a T. Rex, or covered in grotesque, insectoid makeup, Jeff Goldblum has made a great impression on Hollywood as one of its most beloved, and unusual, personalities. Wherever he may show up, whether we will expect it or not, we will gladly follow.
Jason has been writing since he was able to pick up a washable marker, with which he wrote his debut illustrated children's story, later transitioning to a short-lived comic book series and (very) amateur filmmaking before finally settling on pursuing a career in writing about movies in lieu of making them. Look for his name in just about any article related to Batman.