Weekend Box Office: Number One Kung Fu Panda 3 Finishes Out Strong January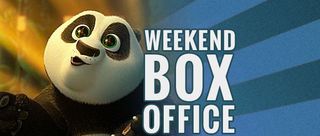 The box office closed out one of its strongest Januarys ever with another sequel in the number one spot, only the second new release this month managing to take top honors.
Kung Fu Panda 3 landed in first with a $41 million opening take. That's down from the $47 million of Kung Fu Panda 2, but not bad considering it's been almost five years since the last movie was released. Both movies have fallen well short of the original Kung Fu Panda's strong $60 million opening weekend in the summer of 2008, but given that both sequels have opened above the $40 million mark shows some staying power for the franchise.
Thanks to a hold over of strong performers from 2015, new movies have had a hard time breaking into the top three, much less the number on spot. Kung Fu Panda 3 is only the second new movie of the month to land number one along with Ride Along 2 which held the position for one weekend two weeks ago. The latest based-on-a-true-story-inspirational-hero-story from Disney/Buena Vista had a hard time staying afloat. The Finest Hours opened in fourth place with just $10 million, a hard start against its reported $70 million production budget. That's a tough break for director Craig Gillespie whose past movies have not only been better, but also cheaper and more financially successful.
There's probably a really good reason why a movie like Fifty Shades of Black makes as much as $6 million, enough for ninth place this weekend, but it's hard to come up with anything plausible. Since taking up the mantle of writer/producer as well as actor, this marks the worst performance for a Marlon Wayan's project which still doesn't seem strong enough of a rejection for what has become an embarrassment to the parody genre.
Natalie Portman's latest offering Jane Got a Gun opened in more than 1,000 venues but made less than $1,000 per screen, leaving it without sufficient box office steam to break into the top ten. With less than a million dollars in sales it took a very distant 17th place this weekend.
For the full weekend top ten check out the chart below:
1.
Kung Fu Panda 3 *

$41,000,000Total: $41,000,000LW: N
THTRS: 3,955
2.
The Revenant

$12,400,000Total: $138,171,368LW: 1
THTRS: 3,330
3.
Star Wars: The Force Awakens

$10,782,000Total: $895,426,162LW: 2
THTRS: 2,556
4.
The Finest Hours *

$10,327,000Total: $10,327,000LW: N
THTRS: 3,143
5.
Ride Along 2

$8,345,520Total: $70,775,210LW: 3
THTRS: 2,412
6.
The Boy (2016)

$7,894,000Total: $21,527,916LW: 5
THTRS: 2,671
7.
Dirty Grandpa

$7,575,000Total: $22,821,010LW: 4
THTRS: 2,912
8.
The 5th Wave

$7,000,000Total: $20,188,149LW: 6
THTRS: 2,908
9.
Fifty Shades of Black *

$6,186,648Total: $6,186,648LW: N
THTRS: 2,075
10.
13 Hours: The Secret Soldiers of Benghazi

$6,000,000Total: $42,573,845LW: 7
THTRS: 2,803
Your Daily Blend of Entertainment News