Weekend Box Office - Robin Hoodwinked By Iron Man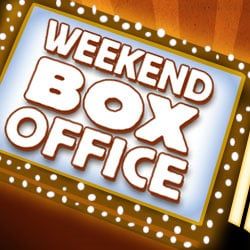 A new Robin Hood movie landed in theaters, doing solid business its opening weekend and recovering more than half its budget. But that was almost twenty years ago when Kevin Costner played the lead role in Robin Hood: Prince of Thieves. This weekend Russell Crowe took his turn as the infamous English hero. He'd have been lucky to fare so well as Costner.
Granted, with its $37 million Crowe's Robin Hood technically banked more its opening weekend than Prince of Thieves , but when you consider two decades worth of inflation Prince of Thieves would have sold about $47 million worth of tickets if it opened today. Even worse, the total opening weekend sales for Crowe's version was only a drop in the bucket against its painfully hefty $200 million budget. If we're comparing with Costner, those numbers feel more like Waterworld. Even with international sales rolled in, the latest offering from director Ridley Scott has a long road ahead and only a whispered prayer's chance of turning a profit.
Adding insult to injury was Robin Hood's inability to make number one (a feat, I should add, Prince of Thieves managed quite ably). The top honors went to Iron Man 2 which held on for a second weekend despite dropping nearly 60% from last week. With $212 million in domestic sales it quickly slipped into second place for biggest grossing film of the year, making quick gains to catch up with the current top movie of the year, Alice In Wonderland (sitting pretty with $330 million and counting).
Letters to Juliet, which seems to serve no other purpose than a potential excuse to put Taylor Swift's single "Love Story" in a sound track (it should be noted both the movie and the song seem to have been written by people who never actually read Romeo and Juliet), came in a very distant and shallow third place with $13 million. Queen Latifah made a poor showing as well. Her Just Wright couldn't even break into double digit millions, a standard she has only rarely failed to uphold in her short but prolific film career. I blame her co-star. Common actors just can't seem to cut it in romantic comedies.
For the full weekend top ten check out the chart below:
1.

Iron Man 2
$53,000,000 -
Total: $212,160,000
LW: 1 WR: 2
THTRS: 4,390
2.

Robin Hood *
$37,114,000 -
Total: $37,114,000
LW: N WR: 1
THTRS: 3,503
3.

Letters to Juliet *
$13,750,000 -
Total: $13,750,000
LW: N WR: 1
THTRS: 2,968
4.

Just Wright *
$8,500,000 -
Total: $8,500,000
LW: N WR: 1
THTRS: 1,831
5.

How to Train Your Dragon
$5,120,000 -
Total: $207,764,000
LW: 3 WR: 8
THTRS: 2,620
6.

A Nightmare on Elm Street (2010)
$4,700,000 -
Total: $56,109,000
LW: 2 WR: 3
THTRS: 3,075
7.

Date Night
$4,000,000 -
Total: $86,699,000
LW: 4 WR: 6
THTRS: 2,481
8.

The Back-Up Plan
$2,465,000 -
Total: $34,202,000
LW: 5 WR: 4
THTRS: 2,497
9.

Furry Vengeance
$2,300,000 -
Total: $15,147,000
LW: 6 WR: 3
THTRS: 2,695
10.

Clash of the Titans (2010)
$1,255,000 -
Total: $160,151,000
LW: 7 WR: 7
THTRS: 1,300
Your Daily Blend of Entertainment News
Thank you for signing up to CinemaBlend. You will receive a verification email shortly.
There was a problem. Please refresh the page and try again.