Weekend Box Office: Rock of Ages Crumbles Under Madagascar's Hooves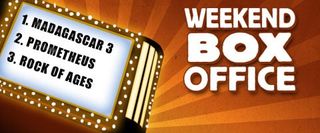 Rock of Ages didn't exactly rock it out this weekend. Proof that people would rather see Tom Cruise running fast and blowing things up than singing with major rock band hair, the movie opened with a dismal $15 million for a weak third place.
Andy Samberg's decision to leave Saturday Night Live didn't seem to help drum up any attention for his and Adam Sandler's new raunch-com That's My Boy. The movie's limp fifth place opening with of just $13 million is one of the worst for a Sandler comedy and not the best kick off for Samberg's new post-SNL career.
Meanwhile Madagascar 3 added $35 million this weekend, keeping it in the number one spot for a second weekend in a row and pushing it into triple digits for a to-date total of $120 million. Prometheus held on to second place, but dropped over 60% to just $20 million.
Moonrise Kingdom doubled the number of screens where it was showing and added enough new tickets sold to move up from its tenth place spot last week to ninth place this week. Not bad for a quirky little movie trying to make its way in a block-buster glutted summer season.
For the full weekend top ten, check out the chart below.
1.

Madagascar 3: Europe's Most Wanted
$35,500,000
Total: $120,451,000
LW: 1 WR: 2
THTRS: 4,263
2.

Prometheus
$20,200,000
Total: $88,858,000
LW: 2 WR: 2
THTRS: 3,442
3.

Rock of Ages *
$15,060,000
Total: $15,060,000
LW: N WR: 1
THTRS: 3,470
4.

Snow White and the Huntsman
$13,805,000
Total: $122,602,000
LW: 3 WR: 3
THTRS: 3,701
5.

That's My Boy *
$13,000,000
Total: $13,000,000
LW: N WR: 1
THTRS: 3,030
6.

MIB 3
$10,000,000
Total: $152,679,000
LW: 4 WR: 4
THTRS: 3,135
7.

Marvel's The Avengers
$8,848,000
Total: $586,737,000
LW: 5 WR: 7
THTRS: 2,582
8.

The Best Exotic Marigold Hotel
$2,200,000
Total: $35,133,000
LW: 6 WR: 7
THTRS: 1,184
9.

Moonrise Kingdom
$2,181,000
Total: $6,779,000
LW: 10 WR: 4
THTRS: 178
10.

What to Expect When You're Expecting
$1,330,000
Total: $38,766,000
LW: 7 WR: 5
THTRS: 1,216
Your Daily Blend of Entertainment News
Thank you for signing up to CinemaBlend. You will receive a verification email shortly.
There was a problem. Please refresh the page and try again.