Weekend Box Office: Spy Infiltrates Way To Number One, Entourage Stuck At The Gate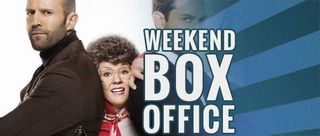 The summer blockbuster action has abated a bit this weekend. Three new movies arrived, but none sparked major enthusiasm with audiences despite doing well in their own rights.
Melissa McCarthy's latest collaboration with director Paul Feig took the top spot this weekend. Spy banked $30 million, just edging out last weekend's number one flick San Andreas and its second weekend $26 million take. Spy's debut is just above McCarthy's and Feig's opening weekend averages, but it's almost one third less than what their last project, The Heat, earned when it bowed in with $39 million two summers ago.
San Andreas fell just shy of the $100 million mark this weekend, but it held second place against the other two newcomers. Insidious Chapter 3 opened in third place with $23 million, noticeably lower than the $40 million debut of predecessor Chapter 2. Entourage dribbled in at fourth place with $10 million, which perhaps isn't all that bad when you consider that the popular show has been off screen for going on four years and critics have been handing the reunion flick miserable reviews (30% on RT to date).
For the full weekend top ten, check out the chart below:
1.
Spy *

$30,000,000Total: $30,000,000LW: N
THTRS: 3,711
2.
San Andreas

$26,440,000Total: $92,163,000LW: 1
THTRS: 3,812
3.
Insidious Chapter 3 *

$23,000,000Total: $23,000,000LW: N
THTRS: 3,002
4.
Entourage *

$10,420,000Total: $17,805,000LW: N
THTRS: 3,108
5.
Mad Max: Fury Road

$7,970,000Total: $130,804,000LW: 4
THTRS: 2,720
6.
Pitch Perfect 2

$7,700,000Total: $160,982,000LW: 2
THTRS: 3,403
7.
Tomorrowland

$7,022,000Total: $76,236,000LW: 3
THTRS: 3,012
8.
Avengers: Age of Ultron

$6,201,000Total: $438,015,000LW: 5
THTRS: 2,471
9.
Aloha

$3,300,000Total: $16,342,000LW: 6
THTRS: 2,815
10.
Poltergeist (2015)

$2,850,000Total: $44,452,000LW: 7
THTRS: 2,229
Your Daily Blend of Entertainment News
Thank you for signing up to CinemaBlend. You will receive a verification email shortly.
There was a problem. Please refresh the page and try again.