Weekend Box Office: Winter Soldiers Holds Top Spot Against Rio 2 And Oculus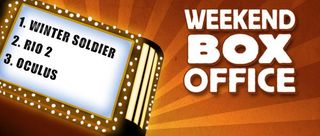 After a competition-free opening last weekend, Captain America: The Winter Soldier managed to hold on to the number one spot yet again with three newcomers encroaching on its audiences.
The latest in the Marvel franchise added $41 million to its $159 million domestic total and $476 million world-wide total. That was just enough to edge out Rio 2. The animated sequel banked $39 million for a close second, almost the exact amount that Rio earned when it opened in 2011.
Horror flick Oculus made its way to theaters on a traditionally low horror flick budget. At a price tag of just $5 million it's already a financial success, taking third place with $12 million. Sports drama Draft Day didn't enjoy much of a boost from headliners Kevin Costner, Denis Leary and Jennifer Garner. It got a fourth place pick with just $9 million.
For the full weekend top ten, check out the chart below:
1.
Captain America: The Winter Soldier

$41,398,000Total: $159,006,000LW: 1
THTRS: 3,938
2.
Rio 2 *

$39,000,000Total: $39,000,000LW: N
THTRS: 3,948
3.
Oculus *

$12,000,000Total: $12,000,000LW: N
THTRS: 2,648
4.
Draft Day *

$9,750,000Total: $9,750,000LW: N
THTRS: 2,781
5.
Divergent

$7,500,000Total: $124,877,000LW: 3
THTRS: 3,110
6.
Noah

$7,450,000Total: $84,872,000LW: 2
THTRS: 3,282
Swipe to scroll horizontally
7.
God's Not Dead
$4,485,000
Total: $40,700,000
LW: 4
THTRS: 1,860
8.
The Grand Budapest Hotel

$4,050,000Total: $39,470,000LW: 6
THTRS: 1,467
9.
Muppets Most Wanted

$2,193,000Total: $45,670,000LW: 5
THTRS: 2,261
10.
Mr. Peabody & Sherman

$1,825,000Total: $105,215,000LW: 7
THTRS: 2,001
Your Daily Blend of Entertainment News