What Anthony Mackie Loves Best About Working For Marvel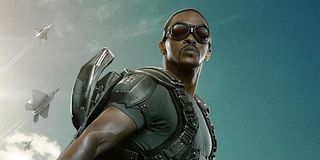 Anthony Mackie has been out on the town promoting his new film Back or White, in which he co-stars alongside Kevin Costner and Octavia Spencer. Understandably, the conversation took a little bit of a detour in a recent sit-down when news anchors wanted to talk about his role in another little upcoming film, maybe you've heard of it... Captain America: Civil War. While he didn't give up any major plotpoints or storyline info, he did show a lot of love for brand Marvel, specifically because you always know their movies will be good.
During Mackie's appearance on WTTG Fox 5, the actor didn't seem all that concerned about the fact that the interview turned, on multiple occasions, from talk of his current film Back or White to the much larger Captain America: Civil War. In fact, as we've seen before with Mackie, he was filled with excitement about pretty much everything Marvel.
They prodded for more info as to whether the actor will officially ever play Cap but he didn't bite. He only went on to echo love sentiments for his Captain America co-star Chris Evans.
In an earlier clip, released from the same appearance at WTTG, Mackie confirmed he will be donning a new costume in the highly-anticipated film. He threw out some math comparisons to illustrate how epic the film was going to be, and while the numbers got a little confusing, we're assuming it was to hint that Cap 3 is going to feature more superhero characters than any other Marvel film to date, other than Avengers. Knowing that Civil War will revolve around the controversial Superhuman Registration Act, which propels the Avengers to choose opposing sides and square off against one another, it's likely that's what Mackie was referring to.
Thus far, Captain America: Civil War is set to star Chris Evans as Steve Rogers/Captain America, Robert Downey, Jr. as Tony Stark/Iron Man, Chadwick Boseman as T'Challa/Black Panther, Anthony Mackie as Sam Wilson/Falcon, Sebastian Stan as Bucky Barnes/Winter Soldier, Scarlett Johansson as Natasha Romanoff/Black Widow, Frank Grillo as Brock Rumlow and Daniel Brühl as an unnamed villain. There's likely still more to come.
The sure-to-be insanely action-packed film, directed by Joe and Anthony Russo, is currently set to hit theaters May 6, 2016.
Your Daily Blend of Entertainment News
Thank you for signing up to CinemaBlend. You will receive a verification email shortly.
There was a problem. Please refresh the page and try again.