Why The Avengers: Age Of Ultron Filmed In A Lot Of Cities Around The World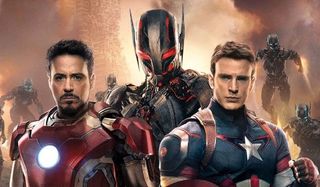 Though they're known as Earth's Mightiest Heroes, the titular heroes of The Avengers spent most of the first movie in the United States. And notably all of it was shot there. (Yes, even the Germany and India segments.) But after making $1.5 billion dollars worldwide, it seems only fair to share The Avengers with the wider world and its gorgeous locations. According to helmer Joss Whedon, the globe trotting of this production will only enhance the narrative of this superhero ensemble.
In an appearance on the Marvel webseries The Watcher (via Coming Soon), Avengers: Age of Ultron writer-director Joss Whedon opened up about the locations of this hotly anticipated sequel, and what he hopes they'll achieve:
Never far from a joke, Whedon went on to tease, "Weirdly, the whole film takes place in Cleveland." (Cleveland doubled for Stuttgart, Germany in The Avengers.)
After the events of the first film--where Loki called down an extraterrestrial army to try to conquer Earth, starting with New York City--it only makes sense that the world at large would know of The Avengers. And it's smart on two fronts for Marvel to take advantage of a wider playing field. The first of these is that by branching out from the U.S., The Avengers narrative has a much wider array of possibilities and paths. Beyond that, the international appeal of Avengers: Age of Ultron will only increase with the inclusion of other nations on the big screen.
We've seen glimpses of some of these setups already. For instance, back in March of this year, amateur video out of South Korea showed none other than Captain America in action atop a massive tractor-trailer.
You can check out our interview with the stuntman behind that sequence here.
Joss Whedon and his cast and crew made use of the stages at Shepperton Studios in Surrey, England, as well. But it was when they were shooting on location at the University of East Anglia Campus Norwich that Avengers: Age of Ultron caught the attention of fans' cameras, like that in our exclusive footage below:
Other sequences fans can expect to see in Avengers: Age of Ultron include a shipyard scene in Chittagong, Bangladesh, street scenes in Johannesburg, South Africa, a winter battle scene set in the Hawley Woods of Hampshire, England, as well as peaks at South Korea's Floating Island, England's Dover Castle Tunnels, and the fortress of Italy's Aosta Valley. And on top of all this, Whedon teases the most visual effects shots any Marvel movies has used yet, clocking in over 3000.
Now he's just showing off.
Avengers: Age of Ultron opens May 1, 2015.
Your Daily Blend of Entertainment News
Staff writer at CinemaBlend.