Why Bill Murray Wrote Wes Anderson A $25,000 Check To Help Make Rushmore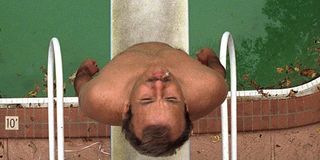 It turns out Bill Murray is even better than we have collectively imagined. The comedian who has forged his own path in film and in fun has a reputation for committing only to projects that interest him, and it appears his passion to see those films made right far exceeds his interest in money. Biographer Matt Zoller Seitz learned this while working on a book about Wes Anderson, the director whom Murray has worked with on every single one of Anderson's films for the last decade.. He shared 24 surprising facts with Vulture about the filmmaker and his works, and two of them shined a surprising light on Anderson's first collaboration with Murray, Rushmore.
As Anderson's follow-up to his directorial debut Bottle Rocket, Rushmore had a lean budget of $20 million. And considering all the locations and details to set and costume design, one of the places that Touchstone Pictures (a branch of Walt Disney Studios) opted to cut back on was actor's salary. This meant that Bill Murray worked for scale, the minimum day rate allowed by the Screen Actors Guild. Anderson notes he also got a percentage of the profits of the film. But all told, Anderson estimates this means Murray was paid about $9,000 to co-star in Rushmore opposite newcomer Jason Schwartzman. Clearly, this wasn't a cause for concern for Murray as he's gone on to star in six more of Anderson's films, including The Royal Tenenbaums, The Life Aquatic with Steve Zissou and Moonrise Kingdom. But the second discovery was even more shocking.
Another area Disney execs attempted to cut costs in was by killing a shot setup Anderson had in mind that would require the use of a helicopter rental. When Murray heard about this, he wrote a check for $25,000 to cover the cost of the rental. Yep. He wrote a check that was $16,000 more than he was standing to make on the film to have it made according to the director's vision. The shot, which was intended for the "A Quick One While He's Away" montage was ultimately cut. But as an unusual memento of their first collaboration, Anderson still has the un-cashed check Murray gave him.
So there you have it. Further proof that Bill Murray is more than one of the greatest comedians cinema has ever seen, he's practically a patron saint of imaginative filmmakers.
Murray's next collaboration with Anderson is The Grand Budapest Hotel, a comedy that stars Ralph Fiennes as Gustave H, a legendary concierge of the titular European destination, whose misadventures involve trysts with amorous old ladies, matchmaking, and a murder investigation. This fantastical film will hit theaters on March 7th, 2014.
Your Daily Blend of Entertainment News
Staff writer at CinemaBlend.