Why Nicolas Cage Quit The Green Hornet, And More Fascinating Dirt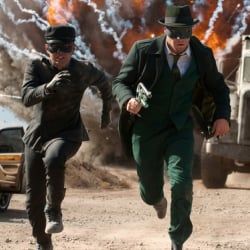 The troubled development history of the Green Hornet movie is a fairly well-known Hollywood story; our reporting on the saga goes back to 2004, when Kevin Smith wanted to cast Jake Gyllenhaal in his version of the story, but it starts way earlier than that, including Eddie Murphy's attempts to play the masked hero in 1992 only to be replaced by George Clooney, who dropped out to star in The Peacemaker.
Those details and many many more are part of a fascinating, hilarious piece in today's New York Times, which chronicles the protracted history of earlier incarnations of Green Hornet-- did you know Michel Gondry was supposed to direct it, starring Mark Wahlberg, back in 1997?-- plus the Seth Rogen-starring one we see today. They get into why Stephen Chow backed out as a director-- "Stephen wanted Kato to implant a microchip in Britt's brain and control him with a joystick"-- and why Nicolas Cage walked away from playing the villain: "for reasons known only to him, he insisted on using a Jamaican accent."
It's unusual to see an article come out before a movie's release that's so open about the problems it faced, but I guess at this point the strange history of The Green Hornet is well known enough that there's no hiding it. Please read the article though, and once you see the movie come back to ponder with me how Nicolas Cage's white Jamaican villain could have fit into the movie. Am I crazy, or could it have maybe worked?
Your Daily Blend of Entertainment News
Staff Writer at CinemaBlend