Win A Threesome With Scarlett Johansson!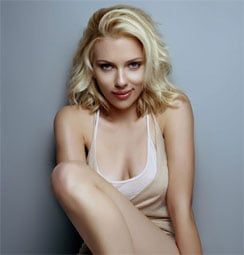 In what can only be categorized as the greatest movie promotion ever, Scarlett Johansson is giving away a threesome. With her. And someone else to be named later. Maybe your wife. Is she up for it? Come on, it's Scarlett Johansson! She has to be. Just tell her you'd do the same if it was Gerard Butler. Of course you wouldn't, but it will never come up so she'll be none the wiser.
The contest is real, and she's doing it to promote the release of her new movie Vicky Christina Barcelona, in which she gets all threesomy with Javier Bardem and Penelope Cruz. See, she already has manage a trois experience. To enter, all you have to do is email Scarlett at threesome@scarlettjohansson.com with reasons why you should win. Both men and women are invited to apply, Scarlett isn't picky.
For more details, click over to her website right here. In fact, you almost certainly need to click over there, since you might find the fine print of interest.
Your Daily Blend of Entertainment News
Thank you for signing up to CinemaBlend. You will receive a verification email shortly.
There was a problem. Please refresh the page and try again.