Zoolander 2 Is A Go, And Heading To This Exotic Location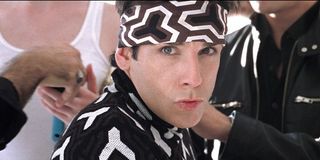 Ben Stiller better get out his Ferrari Face. Zoolander 2 is set to shoot for 12 weeks in and around Rome. The sequel to the box office fizzle with a second life-through-memes has already got talent like Stiller, Owen Wilson, Will Ferrell and Penelope Cruz around it. It's got Justin Theroux co-writing and directing. Now it's got Rome in a location-starring role.
Andrea Bedeschi, an Italian journalist, tweeted that the Mayor of Rome, Ignazio Marino announced that the film would be shooting at the famous Cinecittà Studios this spring and that other locations around the Eternal City would also be used.
Stiller has already said that the script that's now done takes Derek (Stiller) and Hansel (Wilson) ahead to Europe 10 years after the original action. He's already tipped us all off that the script takes off at a place where the duo are "not really relevant anymore." It seems that Mugatu (Will Ferrell) is also playing a key part. Wilson has also commented that his character Hansel is going to be disfigured in some way -- though we're not sure how or why.
So this is where Rome comes in. The city has just been in Bond-o-sphere news lately because of comments via the UK's Independent that SPECTRE pre-production teams were up to their eyeballs in not-so-cinematic litter while scoping out locations for Bond's next stand. Enter Italy's Mayoral communications team. They assured us all that the big clean up would happen in time for Bond's derring do. For those of you who have not been to Rome or her other jewel-like cities, the ancient art of graffiti is as alive and well there as it was in the days of the gladiators.
We're not sure, though, that the places Bond would frequent (hotel rooftops, ancient crypts and other underground venues plus the most expensive hotels in town) would be where Derek and Hansel would be hanging out. One area that both Bond and the boys might frequent would be the Via Veneto, the famously elegant boulevard featured in films like La Dolce Vita. The Via Veneto and its palatial Hotel Excelsior are the places where the paparazzi were born. We might also see them in the fitting rooms of Armani or Versace, or some similar fashion legend, doing a location cameo.
So aside from the Cinecittà set, the original site of Liz Taylor's Cleopatra and the location for the new Timur Bekmambetov Ben-Hur production, we're thinking that the boys are going to be spending a lot of time sipping espresso on the streetside cafés of Rome, saying things like "I could have been a contender" as the denizens of La Dolce Vita glide by.
Your Daily Blend of Entertainment News
Thank you for signing up to CinemaBlend. You will receive a verification email shortly.
There was a problem. Please refresh the page and try again.