11 Great Actors Who Haven't Made A Good Movie In A Long Time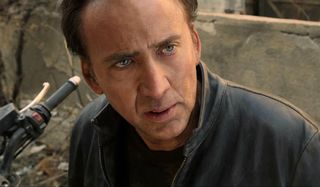 Actors don't just fill roles written in a script. They have the ability to transcend their films and become icons in their own right. It often gets to the point where many people will decide to see a film based upon what actors are featured in the project. If there's one thing Hollywood has managed to do over the years, it's create an entire stable of bona-fide movie stars with undeniable talent that audience will flock to theaters to see.
That being said, just because someone has a knack for acting doesn't mean that they always star in good movies. Some silver screen icons start their careers on the right foot, and slowly but surely lose the magic that made us love them. With that in mind, we have compiled a list of 11 genuinely good actors who have not made a good movie in a very long time. Now let's get started with one of the most well-known cases of such a phenomena.
Nicolas Cage
Oscar winner Nicolas Cage's fall from grace has been one of the most well-documented and fascinating stories to come out of Hollywood in recent years. Although he has become known for his characteristic overacting, Nicolas Cage has an undeniably innate talent, and a wide range that made many of his early films like Raising Arizona and Michael Bay's The Rock instant classics. However, his reported financial troubles over the last decade have forced him into a position where he cannot afford to be quite as picky about the roles he takes on. You're a great actor, Mr. Cage, but we will never forgive efforts like The Wicker Man or Drive Angry.
*Last Great Movie: *Kick-Ass
Julia Roberts
Although it doesn't seem like it's been that long since Julia Roberts was considered Hollywood's "It Girl," she really hasn't produced a notable film in well over a decade. Her earlier work in films like Pretty Woman and Erin Brockovich has become eclipsed by a long resume of lackluster efforts such as The Secret In Their Eyes, Money Monster, and Charlie Wilson's War. These films aren't terrible. But they often fall apart, without ever coming together to be a great movie. Roberts still has a clear acting talent, and she hasn't phoned in her recent performance; she simply needs to pick better projects for herself.
*Last Great Movie: *Ocean's Eleven
Al Pacino
Few Hollywood actors have a level of iconography on par with Al Pacino. The man has become a legend over the course of his career with his beloved roles as Michael Corleone, and Tony Montana -- just to name a couple. Then something happened; he lost his mojo somewhere along the way. Let me just put this into perspective for you, Al Pacino was in both Jack and Jill and Gigli. Let that sink in. You're a legend, Mr. Pacino, and you need to remind us of why we used to love you so much.
*Last Great Movie: *Insomnia
Eddie Murphy
Despite the fact that he's one of the highest-grossing actors of all time, Eddie Murphy's later years have been characterized by downright terrible films like Norbit and The Adventures of Pluto Nash. His work during the 1980s and 1990s set a comedic standard, and he proved on more than one occasion that he has the emotional depth to take on very compelling dramatic roles, as well. It's been a long time since we last saw Eddie Murphy take on a good role, so let's hope his upcoming project on Netflix will return him to his former glory.
*Last Great Movie: *Dreamgirls
Adam Sandler
Although he established himself as Hollywood's resident class clown from the beginning of his career, Adam Sandler has also proven time and time again that he actually has strong acting chops when we strip away the wacky characters and dumb voices. Even the most outlandish early roles like Billy Madison and Happy Gilmore grounded themselves in real human emotion that Sandler actually has a knack for tapping into; it's a shame that his more recent efforts like Jack and Jill or The Ridiculous Six have forgotten about that idea.
*Last Great Movie: *Funny People
Gerard Butler
Olympus has fallen, and so has Mr. Butler. About a decade ago, many people would have assumed that Gerard Butler would go on to become one of Hollywood's most reliable leading men. As it turns out: they were incredibly generous with their expectations. Gerard Butler has slowly but surely nestled himself into a comfortable little B-list action niche that honestly does a disservice to his earlier work in films like Phantom of the Opera or Zack Snyder's 300.
*Last Great Movie: *300
Diane Keaton
No one is every going to question Diane Keaton's status as Hollywood royalty. That being said, she has done very little to reaffirm that status since the early days of her career. She became an icon with her roles in films like Annie Hall and The Godfather, but in the years since she has seldom taken on any substantially challenging roles --instead signing on to films like Love the Coopers and Something's Gotta Give.
*Last Great Movie: *Father of the Bride
Demi Moore
It's not often that a performer becomes inextricable from a particular decade, but Demi Moore's career feels notably bonded with the 1990s. She had a string of hits, from Ghost to _A Few Good Men _and to Indecent Proposal. But as time went on, she simply stopped producing high quality films, and we were left with crap like Charlie's Angels: Full Throttle. Ms. Moore brought intensity to her earlier roles that not a lot of modern actresses have managed to emulate, and we think it's time she got back to doing what she does best.
*Last Great Movie: *G.I. Jane
Meg Ryan
Sure, she's arguably most famous for that fake orgasm, but anyone with a passion for Rom-Coms will instantly note that Meg Ryan is a truly great actor who hasn't had a great role in a very long time. During the 1990s, Ryan epitomized the Hollywood idea of "the girl next door." She had an innate charm and sense of humor that helped turn films like When Harry Met Sally into smash hits. But she also proved her knack for strength and intensity with war dramas like Courage Under Fire.
*Last Great Movie: *Kate & Leopold
Halle Berry
Poor Halle Berry. She really hasn't had a strong role since 2001's Monster's Ball. Following her iconic Oscar win, Halle Berry took on a number of downright atrocious roles in films like Catwoman and Die Another Day, and that level of quality as pretty much characterized her career ever since. Sure, she's been in some incredibly strong X-Men films, but her Storm has often been regarded as one of the weakest elements of that franchise anyway. She's clearly good enough to win an Oscar; she just needs to pick much better projects for herself.
*Last Great Movie: *Monster's Ball
Robert De Niro
Have you ever just sat back and wondered what the hell has happened to Robert De Niro? We wonder that on a regular basis. There's a strong case to be made that De Niro could actually be the greatest film actor to ever walk this planet, but his recent career has been characterized by bad comedies and lackluster dramas. Even his well-regarded comedic roles in films like Meet the Parents don't even come to the glory of his earlier years. We want to remember you for Travis Bickle and Vito Corleone, Mr. De Niro, not for your role in Dirty Grandpa.
*Last Great Movie: *Heat
Originally from Connecticut, Conner grew up in San Diego and graduated from Chapman University in 2014. He now lives in Los Angeles working in and around the entertainment industry and can mostly be found binging horror movies and chugging coffee.
Your Daily Blend of Entertainment News
Thank you for signing up to CinemaBlend. You will receive a verification email shortly.
There was a problem. Please refresh the page and try again.