Looks Like That Star Trek Lawsuit Is Still On, Here's What We Know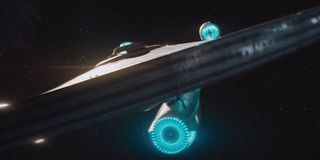 While the Star Trek franchise has released 12 theatrical films over its five decade history (soon to be 13 with Star Trek Beyond), there have also been a number of fan films made by enthusiasts wanting to show their support for the science fiction powerhouse series. However, the one that's gotten arguably the most attention is one that hasn't even been released. The fan-funded Star Trek: Axanar has been facing legal obstacles from Paramount over many months, and while it looked like the lawsuit against the filmmakers was going to be dropped, evidently that's not the case anymore.
Despite Star Trek: Axanar (and its prequel, Prelude to Axanar) receiving support from Star Trek Beyond director Justin Lin and director of the first two Star Trek reboot movies, J.J. Abrams, Trek News reported that this past Wednesday, Paramount and CBS made it clear to a California federal judge that they are continuing with the case. They were responding to a counterclaim from Axanar Productions (led by Alec Peters) that they're worried about continuing with the fan film because of the litigation, and that their creative work wasn't based off of copyrighted material, which Paramount and CBS denied. As it stands now, the lawsuit against Axanar Productions will go to trial sometime in January of next year, though there are settlement talks reportedly in progress.
For those who missed this legal drama the first time around, Paramount sued the producers of Star Trek: Axanar after they made a short film version and started raising funds from fans to make it into a feature-length story. Justin Lin and J.J. Abrams' comments from last month suggested they had some pull in getting Paramount to drop the lawsuit, but evidently not even the two directors of the modern Star Trek movies have any control over who the studio targets. Star Trek: Axanar was intended to follow the Federations' war with the Klingon Empire in the years before Captain James T. Kirk and the Enterprise crew went on their five-year mission.
Star Trek is not only one of the most popular science fiction franchises (arguably the most if you consider Star Wars to have more fantasy elements), but it's also a touchstone of pop culture. That makes it prime intellectual property, and Paramount is obviously extremely protective of what's being done with it. Still, considering all the other Star Trek fan films that have been made before, it's interesting that they're going full steam ahead against Star Trek: Axanar. Presumably the fan/crowdfunded aspect of it angered them. This will certainly force other creative teams to be more cautious about their own fan Star Trek projects, if not outright scrap them.
It may be a while until this fan film situation is settled, but meanwhile, Star Trek Beyond will fly into theaters on July 22.
Connoisseur of Marvel, DC, Star Wars, John Wick, MonsterVerse and Doctor Who lore. He's aware he looks like Harry Potter and Clark Kent.
Your Daily Blend of Entertainment News
Thank you for signing up to CinemaBlend. You will receive a verification email shortly.
There was a problem. Please refresh the page and try again.