This Rotten Week: Predicting Independence Day: Resurgence, Free State Of Jones, The Shallows And Neon Demon Reviews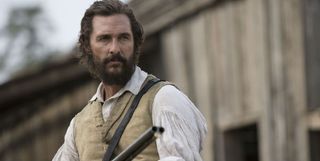 As we head towards one of the biggest holidays of the summer movie season, things are once again ramping back up in Hollywood this week, as we have four brand new flicks hitting the big screen this weekend - from a wide variety of different genres. We've got Independence Day: Resurgence, Free State of Jones, The Shallows and Neon Demon all hitting wide release this Friday.
Let's Just remember, I'm not reviewing these movies, but rather predicting where they'll end up on the Tomatometer. Let's take a look at This Rotten Week has to offer.
Sometimes life comes full circle. I can remember a young Doug Norrie heading to the theater on a group date to see the original Independence Day back in 1996. I held hands with a young lass who became my girlfriend that evening as I comforted her through the scary moments of the blockbuster. I'll always have a great affinity for the flick as a result. Sadly, things don't look to be trending as positively for the brand new sequel, Independence Day: Resurgence.
The original Independence Day (61%) is a popcorn movie through and through. Action-packed, snarky in all the right places and so ridiculous that you long stop caring about the "reality" of the situation early on. Independence Day: Resurgence looks like more of the same - though it is very troubling that the movie isn't being screened for critics before release. Roland Emmerich is back after directing the first, though his time in between hasn't been all critical high fives. He's helmed flicks like 10,000 BC (8%), 2012 (39%) and _White House Down _(51%). While I don't think this story of "They're baacccccckk!" will win an Oscar or anything, I think critics go in knowing what to expect: a sci-fi shoot'em up (with lasers) along with a laugh or two.
Free State of Jones, the brand new drama from director Gary Ross, tells the true(ish) story of Newt Knight, a man living during the Civil War who essentially deserted his role as a soldier in the Confederate Army and waged war against what he thought was a tyrannical group. Starring Matthew McConaughey, this flick looks like just about everything you'd want from a period piece, in that there's the gravitas behind Knight's life-or-death decision to strike up arms against the government, the moral dilemma in bringing others along, and a bunch of action along the way.
I suspect the reviews for this to mirror some of the other works from director Gary Ross, even though it's been a number of years since we've last seen one of his projects hit the big screen. His other works including The Hunger Games (84%) and Seabiscuit (77%), so he certainly knows a thing or two about winning over critical opinion. Free State of Jones also just has a lot of things lining up in his favor, including a part from Matthew McConaughey, who has been on an incredibly run over the last five years. I don't expect that this movie will stall that streak.
A reasonable fear of the ocean and the man-eating creatures who live within it has been something that Hollywood has been exploiting for generations, and this weekend that grand tradition looks as though it will continue. The Shallows is a relatively simple flick and straight forward picture, in that it's basically stranded woman vs. hungry shark. That's about it. Blake Lively's looking for a little sun and surf only to find herself trapped between and buoy and hard place, with the latter happening to have about a thousand teeth and a taste for human flesh.
These kind of bottle-movies can work if the pacing is fluid, the story's tight, and it stays functional within its setting without going overboard. Before making The Shallows, director Jaume Collet-Serra has had some experience in the pacing of these flicks, with both Run All Night (60%) and Non-Stop (60%). Are either great? No, of course not. But for what they set out to do, they're more than entertaining. I suspect The Shallows follows right along and has us on the edge of our beach chairs.
Nicholas Winding Refn's The Neon Demon most definitely looks weird. Adding surreal visuals and a touch of blood-mixed-with-horror to the world of runway fashion and I'm not totally sure about the flick's central conceit. Is it that fashion kills? I suppose the juxtaposition of model-gone-killer could work, though I also get the sense that they took a shot at something here and missed slightly. It just looks strange.
Director Nicolas Winding Refn has experience and with dark Hollywood features in Drive (92%). The trailer for The Neon Demon is purposeful in its ambiguity, and I suspect the rest of the film follows suit. In what looks to be a critique of the fashion industry, Refn might have missed the critical mark with The Neon Demon by just being just a little too out there. Early reviews are rough, with the Tomatometer sitting at 47%. Critics nod toward the visuals but seem to agree the rest is a boring slog and oddly-paced. This is a time where you get that sense even from the trailer.
Recapping Last Rotten Week
Last week was a rather excellent one for the Rotten Watch, as I nailed both movies. The bigger risk of the two was definitely Central Intelligence (Predicted: 72% Actual: 67%). The buddy comedy flick typically goes wrong more ways than it goes right. These flicks will look for easy (often corny) laughs which can miss in big ways. But I had a feeling about The Rock and Hart as their chemistry looked like it hit the mark in the trailer. Critics agreed, and a score in the mid 60's on this genre is a fantastic win. That it'll undoubtedly draw huge at the box office on the back of it's stars and early reviews means we likely see a sequel in our future.
Meanwhile, _Finding Dory _(Predicted: 99% Actual: 95%) landed right in the Pixar zone of excellence. This studio's movies are among the easiest in the world to predict because they simply crush it every single time. It's amazing the consistency they've brought to excellence and at this point we almost take for granted just how difficult it is to score in the mid 90's (or even higher). Those scores mean universal love for a film, something that's near impossible with 150+ critics. Pixar is a singular entity in that they pitch perfect games almost every time out.
Next time around we've got The BFG, The Legend of Tarzan and The Purge: Election Year. It's gonna be a Rotten Week!
Doug began writing for CinemaBlend back when Terminator: The Sarah Connor Chronicles actually existed. Since then he's been writing This Rotten Week, predicting RottenTomatoes scores for movies you don't even remember for the better part of a decade. He can be found re-watching The Office for the infinity time.
Your Daily Blend of Entertainment News
Thank you for signing up to CinemaBlend. You will receive a verification email shortly.
There was a problem. Please refresh the page and try again.