Weekend Box Office: Secret Life of Pets Holds Number One, Ghostbusters Blast Out Narrow Second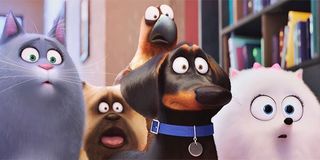 For the fifth straight weekend in a row an animated movie held the number one spot, leaving one of the most talked about remakes to settle for a solid second place.
Ghostbusters has been a touchy subject for some people over the last few months, with a lot of discussion over whether or not the remake would garner much attention at the box office. Critics who expected it to tank got slimed. The movie's $46 million opening narrowly missed making number one, and isn't a rousing start when compared to a chunky $144 million production budget and substantial marketing costs, but there's a reasonable expectation for the movie to at least break even and leaves a small window for anyone hoping to see a sequel.
Compared with the original film, the Ghostbusters remake had a good start. The 1984 original banked $13 million its opening weekend which, adjusted for inflation, would still only total $34 million. But over the long haul it banked over $225 million, more than $575 million in today's dollars, and was the second highest grossing movie that year. The remake has no chance of matching either of those feats.
The Secret Life of Pets marched neatly past the $200 million mark this weekend, adding $50 million and holding on to number one. It's the fourth animated movie this year (fifth, if you include the mostly animated Jungle Book), along with Kung Fu Panda 3, Zootopia, and Finding Dory, to not only open at number one, but hold that spot for more than one weekend.
Bryan Cranston seems to be everywhere these days, but this weekend marked the first wide release (1000+ screens) of a movie with Cranston in the lead starring role. It wasn't a rousing debut. With just $5 million The Infiltrator, despite generally positive reviews, settled for a distant eighth place start.
For the full weekend top ten, check out the chart below:
Your Daily Blend of Entertainment News