Why Luc Besson Now Owes John Carpenter A Lot Of Money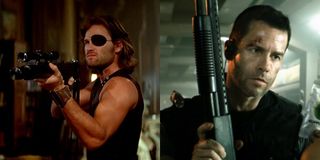 2012's Lockout has proven to be more hassle that it was worth for Luc Besson. Sure it grossed $32.2 million, but it still cost $20 million to make. Plus it only received mixed reviews. And now to top it all off, Luc Besson himself has been found guilty of plagiarising Escape From New York and ordered to pay $500,000 to John Carpenter as a result.
According to reports courtesy of Yahoo News, Luc Besson himself has always denied that The Lockout borrowed heavily from Carpenter's 1981 classic. But the French judge told The Fifth Element and Taxi director that the similarities between the two films were too much to dismiss.
A court in Paris insisted that Lockout had "massively borrowed key elements" of both Escape From New York and its sequel Escape From L.A. And even though this is a rare case of plagiarism between two films between proven in court (similarities are usually dismissed as homages or evidence is circumstantial), Luc Besson himself came out and insisted that "the judges have spoken and we will accept their judgement," even though he admitted that he was "very surprised by the ruling."
But have Luc Besson and the team behind Lockout been harshly adjudged? Or was the evidence so overwhelming that something simply had to be done?
Well, let's take a look. Set in 2079, Lockout sees Guy Pearce play the wrongly convicted Snow, a former government agent who is offered the chance for freedom in exchange for rescuing the President's daughter Emilie (Maggie Grace) from an orbital prison that has been taken over by its inmates.
For those of you that haven't seen Escape From New York, which is right up there with the best that John Carpenter has ever overseen. The film is set in 1997 (give it a break it was made in 1981) and revolves around Kurt Russell's Snake Plissken, an ex-soldier that's now in prison. His character is tasked with retrieving the President Of The United States from Manhattan island, which has been converted into a maximum security prison.
I'll leave you to make up your own mind regarding the films. But the judges were adamant that since the films featured their heroes using a glider/space shuttle to the prison, finding briefcases that were integral to the plot, both films' sidekicks die, and both sets of villains were led by a chief with a peculiar right arm, Luc Besson should pay up.
Numerous reviews for Lockout made reference to just how familiar its plot was to the John Carpenter action extravaganza. Just check out CinemaBlend's own review for Lockout. This provoked Carpenter, co-writer Nick Castle, and Studio Canal to launch the lawsuit against Besson, his fellow Lockout screenwriters James Mathers and Stephen St. Ledger, and Europacorp.
John Carpenter was originally after 2.2 million euros, which comes to around $2.4 million. But last year when the French court found in favor of the Halloween filmmaker, Luc Besson was only ordered to pay 85,000 euros. Despite this leniency Besson appealed, as he insisted that the decision was a "block on artistic freedom," and that Escape From New York itself stole from Rio Bravo and Mad Max. The court disagreed with this assessment, and now Besson has been ordered to pay over five times the amount originally asked of him.
What do you think of this legal battle? Sound off in the comments below.
Your Daily Blend of Entertainment News