New M. Night Shyamalan Split Trailer Gets Twisted And Terrifying With James McAvoy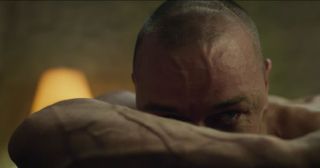 Despite the fact that he was arguably once a Hollywood pariah, M. Night Shyamalan has come back in a major way recently. He regained a lot of lost goodwill last year with the endlessly entertaining found footage thriller, The Visit, and his next project, Split, will seemingly double down on the creep factor. A new trailer for Split has just hit the web, and it seriously looks like one of the scariest thrillers in recent memory. Check out the film's new trailer below to see for yourself.
If that trailer does not immediately make your skin crawl, then I don't know what will. Split centers on the story of a man named Kevin (James McAvoy) with split personality disorder who kidnaps three teenage girls. Keeping them prisoner in a basement, the girls try desperately to work around his condition in order to find a way out before he uses them in a mysterious ritual. As time goes by, it becomes increasingly clear that Kevin is harboring a truly terrifying personality within him known simply as "The Beast" that's unlike anything anyone has ever seen.
While the first trailer for Split did a solid job of establishing the overarching premise of the movie, this particular preview goes even further and establishes the threat that Kevin poses to these young women. We don't just see the effects of his mental condition; we also see how each and every one of his many personas present a distinct challenge to the girls trying to escape. Some of his personalities are violent, others lack maturity to be reasoned with, and others are simply too smart.
I would be remiss for not pointing out how amazing the performances in this movie look as well. For starters, Anya Taylor-Joy continues her meteoric ascent from The Witch and Morgan as one of Hollywood's most capable up-and-comers. Then, of course, there is James McAvoy, who is absolutely magnetic, and appears to have really immersed himself in each and every one of Kevin's many personalities. It's early, but Split looks like it could become one of the best performances of his career.
Out excitement for Split is further amplified by the simple fact that audiences who saw the film early appear to have generally enjoyed it. While some of the reviews have been mixed (as is often the case with any film), many have stood by the assertion that Split may actually be M. Night Shyamalan's best film since Signs hit theaters in 2002. Let's hope that the film can live up to those lofty reviews.
We will bring you all of the latest and greatest information concerning the upcoming release of Split as more details become available to us. M. Night Shyamalan's bizarre psychological thriller will hit theaters on January 20, 2017.
Originally from Connecticut, Conner grew up in San Diego and graduated from Chapman University in 2014. He now lives in Los Angeles working in and around the entertainment industry and can mostly be found binging horror movies and chugging coffee.
Your Daily Blend of Entertainment News
Thank you for signing up to CinemaBlend. You will receive a verification email shortly.
There was a problem. Please refresh the page and try again.