To 3D Or Not To 3D: Buy The Right Trolls Ticket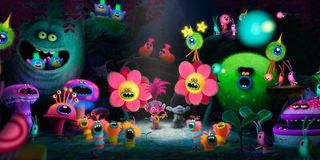 It's the moment you've all been waiting for, ever since JT dropped the needle on "Can't Stop The Feeling" earlier this year. Trolls is heading to theaters, and there's bound to be some adults, as well as all of the kids, excited to head to the theater and see what Dreamworks Animation's latest holds in store. So naturally, with a kids' movie this big, the 3D is going to be an even bigger deal, as taking multiple children to one 3D movie can add up.
As sure as a troll's hair is poofy, we're here to help you figure out if a 3D ride on this magic train is worth the extra scratch, or if you're better off searching eBay for some vintage Troll figurines to adorn your desk / kitchen / common space. Which means it's once again time for "To 3D or Not To 3D," the feature where we strap on the glasses in an effort to make sure it's worth the hassle.
If you're looking for our proper review of Trolls, you can click here to read on. Otherwise, it's time to for us to get to the matter at hand, and evaluate the 3D presentation of Dreamworks Animation's Trolls!
Trolls singing and dancing in a lush forest, singing their little hearts out, and in some cases farting glitter, seems like the sort of thing 3D was born for. Trolls is one of those kids' adventures that begs for a 3D presentation, as it plans to throw everything it's got at the screen. Not to mention, the difference in scale between the Trolls and their mortal enemies the Bergens is something that 3D easily takes advantage of.
Being a CGI animated film is one of the easiest formats to properly convert into 3D magic, Trolls certainly upholds Dreamworks Animation's reputation for maximizing its 3D effects. The film manages to pull off some impressive camerawork with its 3D effects, allowing certain elements to take center stage and truly pop out from the backdrops they're set against. Much like this year's Kung Fu Panda 3, those in charge of the 3D department look to have paid a lot of time and attention, and it never feels like it was just tacked on for ticket sales.
Glitter farts. No, seriously, Guy Diamond's glitter farts are one of the most impressive 3D effects in Trolls, because it feels like they're coming out of the screen at you. As if that wasn't enough, everything from errant roller skates to tunnel debris and fireworks feel like they're ready to leap off of the screen. Not to mention, Poppy's pop-up cards really impress in 3D. Both the reality and the fantasy of the Trolls world come to life in eye-popping 3D.
Unfortunately, the depth of the image in Trolls isn't as exciting as the eye-popping contingent, but thankfully it's still more effective than most other 3D films. The one big problem the film has with depth is the felt illustrations that make up Princess Poppy's narrative structure, as she lays out history and current events through her viewpoint. The depth the rest of the film shows off is lacking, which actually throws off other pieces of the 3D presentation's visuals.
For a film that uses such an impressive color palette of various neon and pastel shaded colors, Trolls is a pretty dark film behind the glasses. Now your mileage may vary, as 3D projectors aren't always calibrated properly to show the true brightness of the 3D picture. But for a film that boasts "True Colors" as one of its set-piece musical numbers, and a crucial one at that, the dim nature of the picture is a bit of a letdown.
When you take your 3D glasses off during a film, there should be a fair amount of blur, as it's what makes the 3D both pop out and occupy visual depth. Trolls does both of those rather well, and the blur is pretty well done as the backdrops tend to have the most blurry focus, with characters taking more subtle levels of blur in the foreground.
For the most part, Trolls is pretty solid when it comes to audience health, though there are some sequences that move so quickly that they wonk things out a fair amount. The felt scrapbooking, and some of the dance sequences, manage to make things a little loopy while watching, but not enough to derail everything altogether. While certain aspects of the visuals stand out, they do so in a way that sometimes confuses the eye's focus.
While not perfect, Trolls' 3D presentation is still a pretty eye-popping experience. Though the visuals sometimes wonk out, and the coloring isn't as bright as you'd get in a 2D viewing of the film, there's still a lot to catch your fancy. But if you're in a bigger, more kid-dense group of viewers, 2D might be more economical, as well as more visually stimulating, for the little ones.
Your Daily Blend of Entertainment News
Senior Movies Contributor
CinemaBlend's James Bond (expert). Also versed in Large Scale Aggressors, time travel, and Guillermo del Toro. He fights for The User.