New John Wick 2 Image Features An Awesome Matrix Reunion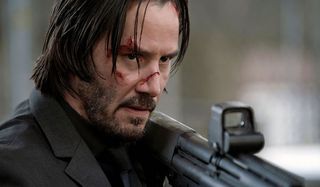 There are plenty of reasons to be excited about John Wick: Chapter 2. Back in 2014 its predecessor wowed audiences thanks to its fluid movement, ferocious action, and cool aesthetic, all of which came with the added bonus of Keanu Reeves' best performance in years. For John Wick: Chapter 2, Keanu Reeves has convinced his old Matrix cohort Laurence Fishburne to join in the fun, and we've now got a look at the reunion courtesy of a brand new image for the film. Check it out below.
It's enough to reduce grown men to tears. John Wick: Chapter 2's Matrix reunion doesn't just include Keanu Reeves and Laurence Fishburne, though. Director Chad Stahelski, who made his directorial debut with John Wick alongside David Leitch, was previously the stunt double for Keanu Reeves on both The Matrix and The Matrix Reloaded. He also worked as the martial arts stunt coordinator on Reloaded and Revolutions.
Keanu Reeves is reprising his titular role in John Wick: Chapter 2, portraying the legendary hitman that comes out of retirement for the second time in a very short amount of time. This time around, John Wick is forced by a blood oath to help out a former associate who wants to seize control of an international assassins' guild. John Wick travels to Rome to face off against the world's deadliest killers and do just that, going up against Common, Riccardo Scamarcio, and Ruby Rose as well as many, many others. The cast of John Wick: Chapter 2 also includes John Leguizamo, Ian McShane, Bridget Moynahan, Lance Reddick, Peter Stormare, and Peter Serafinowicz, while Laurence Fishburne will play The Bowler King.
This role was specifically written for Laurence Fishburne, with Keanu Reeves previously admitting that writer Derek Kolstad and Chad Stahelski wanted to pair Neo and Morpheus back together. Thankfully Laurence Fishburne had seen and adored John Wick so, after perusing the script, it didn't take long for him to sign up.
You can have a longer look at Keanu Reeves and Laurence Fishburne's reunion in John Wick: Chapter 2 by watching the trailer below; it occurs right at the end. But don't go steaming ahead to just that part of clip, because the rest of the footage suggests that John Wick: Chapter 2 is going to be just as enthralling as its predecessor.
Told you.
_John Wick: Chapter 2 _will finally be with us on February 10, 2017.
Your Daily Blend of Entertainment News
Thank you for signing up to CinemaBlend. You will receive a verification email shortly.
There was a problem. Please refresh the page and try again.