10 Films You Didn't Know Were Hits In 2016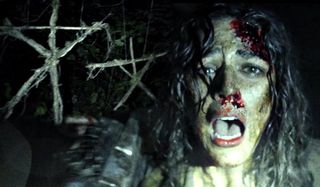 Going into 2016, the movie business was bracing for a projected drop in business, as 2015 was pretty much a banner year for almost all involved. Yet somehow, be it the right films at the right time, or perhaps the surprise successes of films that didn't look like the massive crowd-pleasers they eventually became, the year actually managed to bring some good news to the summer season's grosses. Not to mention, Disney became the first studio to cross the $7 billion mark, so really, how bad of a year was it?
If you're one of the ten movies we're about to mention, it wasn't a bad year at all. In fact, some of these films were unknown quantities going into the year, while others seemed destined for box office failure. Yet somehow, these flicks pulled the rabbit out of their hats and made cinematic gold! They're the underrated, the downtrodden, and in some cases the outright panned. But their audiences found them, and their presence on this list is their official last laugh. Here are the 10 surprising hits of 2016's box office results.
The Forest
Gross: $37 mil.
Budget: $10 mil.
Estimated Profit: $27 mil.
We're starting things off with a horror film you probably forgot existed, The Forest turned a $10 million budget into a $37 million payday at the box office. In the first weekend alone, the film managed to cover its meager budget, despite Star Wars: The Force Awakens and two other competitors burying it in fourth place. So the oncoming weeks were nothing but profit for Focus Features' opening salvo for 2016. It just goes to show that if you budget your horror movie just right, you can make a mountain out of a molehill yet.
Blair Witch
Gross: $45 mil.
Budget: $5 mil.
Estimated Profit: $40 mil.
Blair Witch was considered a disappointment by most, as The Blair Witch Project went on to become the most successful independent horror film of all time. However, while the long awaited follow-up may not have scaled the same heights as its predecessor, it did make eight times its budget at the box office. Another fourth place starter on the domestic front, the film managed to gross more than half of its total domestically. Though, as you'll see with some of our competitors, the international market really saved the day, with $24 million being raked in through other countries.
Ouija: Origin Of Evil
Gross: $81 mil.
Budget: $9 mil.
Estimated Profit: $72 mil.
Now we start to get into the heavy hitters, and we start with a film that was surprising not only in financial success, but actual content. With Ouija being a disappointing film on the actual film-making end, Ouija: Origin of Evil surprised even our Eric Eisenberg as " one of the biggest cinematic surprises of the year." Surely, the waive of surprising praise must have caught even audiences off guard, as they managed to bring this film in a neat and tidy $72 million in estimated profits. Surely this will embolden Universal to try and greenlight a third installment, so here's hoping the creative forces that made this sequel a success are at work again.
Dirty Grandpa
Gross: $94 mil.
Budget: $11.5 mil.
Estimated Profit: $82.5 mil.
Dirty Grandpa is, for lack of better terms, a forgettable film. It wasn't really funny, and it didn't exactly find itself talked about all that much throughout 2016, much to the benefit of anyone who wanted to have a career after starring in it. However, considering $82.5 million have been estimated as rolling into the coffers of Lionsgate, it certainly beats the grosses from the studios' massive bomb of 2016: The Divergent Series: Allegiant. Say what you will about the subpar Robert De Niro/Zac Efron vehicle, but if it were to get a sequel, at least it wouldn't find itself downgraded to a TV movie.
The Accountant
Gross: $148 mil.
Budget: $44 mil.
Estimated Profit: $104 mil.
Ben Affleck had a rough start to 2016, despite being the best thing about the extremely divisive blockbuster Batman v. Superman: Dawn of Justice. With his last film of this year, Live By Night, starting to gain some negative buzz, it's a good time to mention that the Affleck film in between, The Accountant, managed to do just fine on the balance sheets. The first film on our list to cross $100 million, the Gavin O'Connor directed thriller kicked a lot of ass on the screen, while fetching some bank in the arena of studio finances. Maybe the actor/director should fast track a sequel or two to even out his odds in the years to come.
Don't Breathe
Gross: $153 mil.
Budget: $9.9 mil.
Estimated Profit: $143.1 mil.
The fact that Don't Breathe was as successful as it was thrilling isn't the surprise here. Rather, the surprise is the fact that Fede Alvarez's film only needed $9.9 million to be made, and took in $153 million during what's normally the doldrums of summer. With a sequel already being planned, Sony scored one of the sizable hits that they've desperately needed in the past couple of years. A second win in Alvarez's corner, after 2013's Evil Dead, we'd be surprised if the studio didn't arrive at some point with a blank check and a smile on their faces, anticipating the director's next move.
Lights Out
Gross: $148 mil.
Budget: $4.9 mil.
Estimated Profit: $143.1 mil.
Horror has been enjoying quite the resurgence in recent years, thanks to modest budgets and easily franchised films that can go for two or three installments before showing signs of fatigue. Lights Out was a film not sold on the back of a franchise, but more so on the goodwill attached to producer/director James Wan. With his Conjuring and Insidious franchises still alive and kicking, his name was also attached to this feature length adaptation of a famous short film, and it showed with the estimated $143 million that this shocker scored through a very busy summer.
Bad Moms
Gross: $179 mil.
Budget: $20 mil.
Estimated Profit: $159 mil.
Comedies are the new horror movies. Just ask the folks at STX Entertainment, who have announced A Bad Moms' Christmas and Bad Dads after seeing unpredictable success with the origin point for all of these films, Bad Moms. $159 million is what's left over after the $20 million budget is subtracted from the $179 million gross that the picture found at its feet. With $113 million of that worldwide total coming from domestic ticket sales, this only emboldens the powers that be to go all in on this new universe they're abo ut to forge.
Central Intelligence
Gross: $216 mil.
Budget: $50 mil.
Estimated Profit: $166 mil.
The Rock has been rather on and off when it comes to his box office profile as of late. For every Furious 7, there's a Hercules waiting to remind him that he is, in fact, mortal. That reminder will have to wait for a little longer to return though, as Central Intelligence managed to pair up the action chops of the former pro-wrestler with the comedic chops of hit comedian Kevin Hart. A winning combination, the results of the film's box office run alone managed to make $166 million, after the budget was subtracted from the $216 million final gross. Not an easy feat, but a good sign that comedy is still a viable genre.
Warcraft
Gross: $433 mil.
Budget: $160 mil.
Estimated Profit: $273 mil.
They say that video game movies can't get the job done. Hell, they even said that Warcraft wouldn't make a dent in the box office of 2016, with a $160 million budget weighing heavily on any possible profits. And yet, $273 million is what's left over when you balance the books, as Duncan Jones' video game adaptation managed a huge international win, particularly in the Chinese market. Legendary certainly needed that money, after a rough adjustment period that occurred after they first partnered with Universal. Now their partnership seems as strong as ever, though we'll hold our applause until The Great Wall opens domestically, as that looks like a film that could make this joyous news ancient history.
CinemaBlend's James Bond (expert). Also versed in Large Scale Aggressors, time travel, and Guillermo del Toro. He fights for The User.
Your Daily Blend of Entertainment News
Thank you for signing up to CinemaBlend. You will receive a verification email shortly.
There was a problem. Please refresh the page and try again.