The 10 Best Movies Of 2016, According To Eric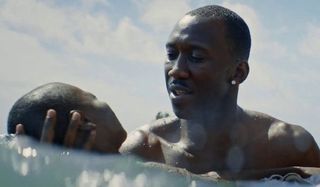 While terrible in other aspects, 2016 was a remarkable year for film. From beginning to end, I got to see more than 130 movies released this year, and while that included some really bad stuff, most of it actually ranged from good to brilliant. While that wound up making me very happy over the last 12 months, it also made the construction of the list that you're about to read annoyingly challenging.
From January to December, we saw a huge number of impressive movies come out in a wide variety of genres, but ultimately I settled on the following 10 as my favorites of the year. Read all of my selections and reasons, and then hit the comments section below to share your own personal Top 10s of the year!
#10: Deadpool
Back in 2010, I got my hands on a copy of the Deadpool script written by Rhett Reese and Paul Wernick. In the days, weeks, months and years after, I occasionally looked at a few pages, and laughed at a couple great scenes... but I never read the full thing. Why? Reading the full thing would have meant ultimately spoiling the big screen experience, and while it took forever for the thing to get made, I never lost faith that it would. That faith was rewarded in 2016, with the vision of Rhett Reese, Paul Wernick, director Tim Miller and star Ryan Reynolds shared with the world, and it also came with the bonus factor of being one of the best movies of the year.
Limited by a tight budget, Deadpool is a very small-scaled, simply-told superhero story that basically unfolds in three sequences - but it's the film's exploitation what what's so amazing about the titular character that makes it such a victory. That same tight budget came packaged with permissions to go full-on R-rated, and that freedom is used in the best way, with all the blood and cursing adding distinct flavor to the ridiculous action and hilarious dialogue. In case it isn't clear, I've been a fan of Deadpool comics for years, and this movie was pretty much everything that I could have wanted -- and it's why it made my Top 10 of the year.
Read my full review here.
#9: Moonlight
I went into my screening of Barry Jenkins' Moonlight based solely on the recommendation of friends and colleagues. I didn't see a single trailer, and I didn't even know what it was about. So imagine me, stunned, as I sat back and watched one of the most incredible dramas in recent memory unfold -- blown away by the depth achieved with its trifurcated narrative following a deep and emotional journey about a young black man's experience growing up in poverty.
If Mahershala Ali doesn't win an Oscar for his performance in Moonlight, I will happily dine on a shoe -- but his is just one of many brilliant performances that come out of the narrative. Playing Little/Chiron/Black through the different stages of his life, Alex Hibbert, Ashton Sanders and Trevante Rhodes are all individually outstanding, as are turns from Naomi Harris and Janelle Monae (making her live-action acting debut). Within its circumstances and context, it manages to be both tragic and uplifting, and it's captured with immense beauty by Barry Jenkins -- who is now firmly on my list of must-watch directors. Moonlight is a special film for a special period in time, but it will also be appreciated for years to come as a quiet masterpiece.
#8: Hunt For The Wilderpeople
In Hunt For The Wilderpeople, writer/director Taika Waititi finds light where there's a whole lot of darkness. On its surface, it's the story of a shipped-around foster kid whose favorite guardian winds up dying, leading him to get lost in the bush and the target of a manhunt alongside his gruff, unfriendly "uncle." Pitch black as that may seem, however, Waititi molds that material into one of the funniest comedies of the year -- and it's in doing so that the filmmaker has fully emerged as a legitimate talent and one of the industry's best rising directors.
As the rambunctious Ricky Baker and the cantankerous "Uncle" Hec, Julian Dennison and Sam Neill make up one of the best duos in 2016 cinema, as there is a seemingly endless number of laughs generated from their dynamic (particularly as their entire situation navigating the bush escalates to ridiculous levels). Of course, Waititi and his actors also never ignore the gravity of the material they're working with either, and it's within striking the flawless balance that Hunt For The Wilderpeople is taken to the next level. It's a film that I know I will watch many times in the future (I've watched it many times already), and it beautifully raises all of my expectations and hopes for what Waititi does in the future.
Read my full review here.
#7: Captain America: Civil War
Being a comic book fan, the real pleasure of the Marvel Cinematic Universe for me is its continuity and crossovers. More than just demonstrating a respectable amount of forethought and creativity, they are the elements that bring the movies closer to their subject material, and grow the magical and amazing fictional world filled with heroes. Of course, this isn't to say that I don't enjoy the standalones like Doctor Strange, but that I have a greater appreciation for the projects that can really capitalize on what came before them. It's a big part of what makes Joe and Anthony Russo's Captain America: Civil War a brilliant cinematic experience, and one of my favorite films of the year.
As I wrote about at length, the third Captain America movie is brilliant in that it feels like what everything in the Marvel Universe has been leading to at this point -- and considering there have been 12 other features, that's an amazing feat. It puts perfect punctuation marks on the ways that its two leads, Chris Evans' Captain America and Robert Downey Jr.'s Iron Man, have evolved over the course of their adventures, and the way in which Christopher Markus and Stephen McFeely's script balance the monster-sized ensemble is mesmerizing (particularly with the added challenge of introducing brand new heroes and villains to audiences). Add its stunning action into the mix, with the Leipzig-Halle Airport showdown being the best superhero sequence we've ever seen, and what it comes together as is everything a blockbuster should be.
Read my full review here.
#6: Paterson
Jim Jarmusch movies aren't necessarily for everybody. They definitely require a certain amount of patience and meditation, and I don't really think I could fault anybody for highlighting a certain level of pretension in his work. That on the table, I definitely consider myself a Jim Jarmusch fan and in Paterson he has created one of his greatest works to date.
The film is very much inspired by the work of poet William Carlos Williams (in the same way Dead Man analyzes William Blake), but is largely a beautiful call to action to creative people everywhere to not only express themselves, but to also share their expressions. Set in Paterson, New Jersey and centered on the quiet life of a bus driver named Paterson (Adam Driver), Paterson is a simply constructed narrative that is literally a "week-in-the-life," but finds wonderful themes and symbolism through random encounters and mysterious repetitions. In a subtle yet challenging role, Driver is tremendous, as is Golshifteh Farahani -- who plays Paterson's girlfriend, Laura, and has a complicated yet fascinating relationship with the audience's perception of her as a character over the course of the movie. It's one of Jim Jarmusch's greatest films to date, and it will not only certainly satisfy established fans, but hopefully will also inspire interested cinephile newcomers to discover his work.
#5: Manchester By The Sea
When constructing my Top 10 list for the year, one of the most important elements that I take into consideration is rewatch-ability. There are some movies that are great, but really can be only watched once -- and I love taking in a film multiple times for both entertainment and analyzation purposes. Manchester By The Sea appears on the outside to be more of a "one-timer," as the incredibly heavy emotional material that comes with the kind of loss featured within it is typically only something that can really be endured once. It's to writer/director Kenneth Lonergan's immense credit, however, that the film manages to be both emotionally devastating and provides a rich enough experience that it calls for re-exploration.
The paces that Casey Affleck's Lee Chandler are put through are immense -- the plot driven forward as he is made guardian of his teenage nephew following his brother's death -- but the most impressive aspect of Manchester By The Sea is the way in which it's able to approach it all with a realistic perspective. The film certainly knows when and how to tear your heart out as you're experiencing the story, but it's also shockingly funny at times -- the humor particularly found in the relationship between Lee and his nephew (Lucas Hedges). Given the way the story unfolds and what we learn about the characters over the course of their individual arcs, it's a movie that I'm eager to look at again with different perspective -- and that's why it's made my Top 10 of 2016.
#4: The Lobster
Greek director Yorgos Lanthimos and I share something in common: a healthy appreciation for the weird. I was first exposed to his work with his 2009 film Dogtooth, and it's legitimately one of my favorite movies of the still-young century -- existing as a commentary of fascistic society while also being strange sci-fi tale that lives in its own world. The latter quality very much also exists in his latest film, The Lobster, and because it also comes armed its own critical observations and interesting ideas, it easily ranks as one of my favorite features of the last twelve months.
Co-written by Lanthimos and Efthymis Filippou, The Lobster is set in a world where romantic partnership is mandatory, and the punishment for not following the law is that you are turned into an animal of your choosing. If this description alone just raised your eyebrows, it's a film that you need to check out, because it's wondrous in its commitment to its own absurdity. Forced to play the material entirely straight, Colin Farrell, Rachel Weisz, Lea Seydoux, and John C. Reilly all put on magnificent performances, and allow the inherent satire regarding societal views on relationships to perfectly stick. If you're new to Lanthimos' work, give yourself some time to adjust to what the film is throwing at you, because if you adjust to its groove I'm confident you'll appreciate it as much as I did.
#3: Arrival
Given how much science-fiction is geared towards teenagers, it's remarkably refreshing to get a smart example that refuses to talk down to its audience. This is Denis Villeneuve's Arrival in a nutshell. While it has a high-concept plot -- aliens visit Earth and we must find a way to talk with them -- the way that it develops is elegant and brilliant, ensuring that future viewings will be even more rewarding. Taking on themes that are incredibly relevant and important to the world today (dealing with the essentialness of communication in a world growing both closer together and further apart), it really is the best kind of sci-fi in addition to being one of the best movies in recent memory.
I can't say that I was completely shocked by my love for Arrival, as Denis Villeneuve has firmly established himself as a tremendous talent, especially when he's collaborating with legendary cinematographer Roger Deakins. His 2013 film Prisoners made my Top 10 list for that year as well, albeit for completely different reasons -- which actually speaks to both surprising variety and consistent quality in the director's work. In addition to featuring elegant and creative designs for the extraterrestrials, and a fascinating use of dream sequences and flashbacks, Arrival is stunningly constructed, and Villeneuve gets remarkable performances from stars Amy Adams and Jeremy Renner. It's not only a must-see, but a movie that you must see twice.
#2: La La Land
Musicals aren't my thing. Of course, I never dismiss anything outright going into a screening, but history shows that my appreciation of the genre isn't as strong as my love of detective noir or sci-fi adventure. That being said, I went into Damien Chazelle's La La Land fully expecting to love it, as I was thoroughly impressed by his directorial debut, Whiplash (my #3 movie in 2014). In case you couldn't tell by its placement on the list you're currently reading, I wasn't disappointed in the slightest.
Implementing exquisite long takes that both capture incredible choreography and the stupendous, emotional performances by Ryan Gosling and Emma Stone, Damien Chazelle totally knocks it out of the park with his sophomore effort. In addition to having a beautiful soundtrack that elegantly highlights the movie's larger themes, it also has a unique and excellent narrative about the people who come into your life exactly when you need them, and help you to push yourself to become the person that you want to be. It's an extraordinary piece of filmmaking that is entirely guaranteed to pick up a huge collection of devout fans -- if not also a few pieces of hardware throughout the upcoming awards season. Admittedly I've personally learned that I'm kind of a sucker for "Ryan Gosling Doing Stuff In LA" movies, so keep that bias in mind - but that also leads me to my final entry on this list...
#1: The Nice Guys
It's fitting that I'm running my Top 10 list this year right after Christmas, because the holiday and the works of writer/director Shane Black have long been linked together for me. Because so many of Black's movies are set on and around December 25th, I have a longstanding tradition of using the day to marathon these titles. This year I got to add The Nice Guys to the end of a run including Lethal Weapon, The Last Boy Scout, The Long Kiss Good Night, Kiss Kiss Bang Bang, and Iron Man 3 -- and I'm absolutely thrilled that I did, because it was my favorite movie of 2016.
As suggested by some of the other titles on this list, I'm a huge fan of film noir storytelling, clever dialogue, and dark comedy, and all three of those things flow through the veins of The Nice Guys. While one would never really think of them working together in a buddy capacity, Ryan Gosling and Russell Crowe are utterly genius together, and construct scenes that have had me tearing up with laughter during multiple viewings. Armed with a sharply-tuned mystery, smart-aleck kids, and twisted heroes, it has Shane Black's DNA all over it, and as such is a pure delight. One of the biggest disappointments of the year for me was that nobody showed up to this one when it came out in theaters, but let this be my message to you all: this is a film that everybody can and should enjoy, and if you have any opportunity to watch it, it's an opportunity you should take.
Read my full review here.
The Runner Ups: 10 Cloverfield Lane; Captain Fantastic; Everybody Wants Some!!; Fences; Hell or High Water; Kubo And The Two Strings; Lo and Behold: Reveries of the Connected World; Loving; Moana; Morris from America; Rogue One: A Star Wars Story; Sing Street; The Witch; War Dogs; Zootopia
NJ native who calls LA home; lives in a Dreamatorium. A decade-plus CinemaBlend veteran; endlessly enthusiastic about the career he's dreamt of since seventh grade.