This Rotten Week: Predicting Sleepless, The Bye Bye Man And Monster Trucks Reviews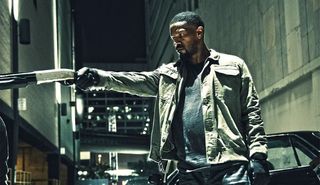 There are three movies hitting the screen this week and sadly it seems that none of them are worth getting excited about. We've got Sleepless, The Bye Bye Man and Monster Trucks. It's gonna be a Rotten Week!
Just remember, I'm not reviewing these movies, but rather predicting where they'll end up on the Tomatometer. Let's take a look at This Rotten Week has to offer.
Does anyone else think they should have just called this Taken 4: It's Jamie Foxx's Turn? In Sleepless, a remake of the French-Belgian-Luxembourgian thriller Sleepless Night, Foxx stars as an undercover agent whose son is kidnapped by a drug-dealing baddie. Jamie has to use his special set of skills to get the kid back. We've seen this scenario what feels like infinity times. There are only so many ways to skin this kind of movie cat and I can't imagine we get anything new or updated in this flick. Sure, it looks flashy, but after that can we really get all that excited?
Movies like this typically fail to have any real stakes mostly because the ending is almost predetermined. Sure, it's probably fun to watch Jamie Foxx punch, kick and shoot his way through an entire criminal organization, but I suspect the entertainment returns diminish over the course of the runtime. It's hard to imagine critics getting too terribly excited about Sleepless.
It's your first night in a new house and you wake up to see a demon-man in a cloak come at you in the dark of your bedroom. You narrowly escape getting killed because you get the light on in time. Do you even make it to night two? Right, me neither. And yet here's another movie in which the main characters decided to stick it out. See what the real estate market does to people? It makes them stick out bad investments, trying to fight the boogie man off with a seance rather than booking it out of town. I don't expect a ton of originality in The Bye Bye Man, and I expect critics to respond with appropriate backlash.
The Bye-Bye Man appears similar to Candyman in that if you say his name, he kills you. So that's bad. Good news is the main characters have some friends who help them out with their house demon and likely get killed first. It doesn't exactly seem like a great time at the movies, and the lack of reviews posted so far doesn't give me a ton of hope.
Well, I have to hand it to Monster Trucks. I think this is one of the worst ideas I've ever seen put forth in a widely released flick. A monster from the deep dark depths of, well, somewhere, starts living in the beat up old truck of a high school teen. In fact, he basically powers the car from inside the engine while also becoming best friends with the guy. Monster in the truck, Monster Trucks! Get it? Ugh.
To be blunt, the movie just looks absolutely dreadful. I'm also not exactly sure who is supposed to see this. It looks a bit over the head of young kids, and anyone older surely doesn't even consider buying a ticket. Early reviews confirm what only seeing the trailer has you knowing already. It's no good. It's at 22% through about 20 looks and I can't imagine the number ticks up at all.
There was only one flick last time around, and I was just outside the victory margin of 10%. _Underworld: Blood Wars _(Predicted: 9% Actual: 22%) was a pretty easy one considering the rest of the franchise basically falls all within this range. I expected critics to think it was incredibly bad, but instead it merely just sucked. This one's made strictly for the hardcore fans of the franchise and likely no one else. It's hard to imagine any new folks flocking to the theater to see the ongoing struggle of vampires and werewolves in dimly lit settings.
Next time around we've got a big one with The Founder, The Resurrection of Gavin Stone, Split and xXx: The Return of Xander Cage. It's gonna be a Rotten Week!
Doug began writing for CinemaBlend back when Terminator: The Sarah Connor Chronicles actually existed. Since then he's been writing This Rotten Week, predicting RottenTomatoes scores for movies you don't even remember for the better part of a decade. He can be found re-watching The Office for the infinity time.
Your Daily Blend of Entertainment News
Thank you for signing up to CinemaBlend. You will receive a verification email shortly.
There was a problem. Please refresh the page and try again.