One Big Change James Cameron Wants To Help Theaters Make To Get Ready For The Avatar Sequels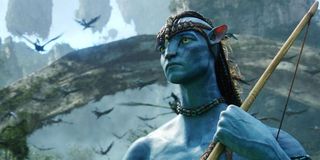 It feels as though James Cameron has been working on the Avatar sequels for decades now, and in reality it has been several years. Rather than just focusing on one follow-up to the highest grossing film of all time, the legendary director has actually planned out four sequels, which he will now work on repeatedly over the next few years. But this prolonged period of development has been a bit of a blessing, because it has allowed technology to catch up with James Cameron. So much so that he's just invested heavily in upgrading the theatrical projection ahead of the release of the future Avatar films, which means that they will look pristine on the big screen when they finally premiere.
This revelation coincides with James Cameron's Lightstorm Entertainment renewing a five-year tech agreement with projector maker Christie, which suggests that the two parties are more than happy working alongside each other. James Cameron had one eye on the very near future when he made this agreement, too, as he made sure that, as part of the deal, Christie will now provide Lightstorm with the first of a new RGB laser projection series that's currently in development.
Christie has high hopes for the RGB, as the company expects it to be much more efficient than current systems. Since James Cameron will now be breathing down the company's neck you can bet your bottom dollar that Christie will be feeling the pressure to deliver a perfect finished product.
There's even more, too. Lightstorm is now also going to have access to the Christie Mirage 4KLH RGB laser projection system. This laser projector was actually used by Ang Lee on Billy Lynn's Long Halftime Walk, and it beguiles and fascinates filmmakers because it is able to handle 3D, 4K resolution at a high frame rate (HR) of 120 frames a second with ease and aplomb. But this isn't just a one-way street. THR also noted that Lightstorm is going to give a little back to Christie, as it will divulge its findings into 3D, HFR and high-dynamic range (HDR), as well as everything known about formatting and color space requirements. All of which should assist Christie's continued development.
But other than Avatar looking even prettier up on the big-screen, what does this news really mean for the franchise? Well, it's further evidence that James Cameron is now truly ready to finally get to work on the Avatar films. Because after recently completing the scripts on each of them he's now looking to ready cinemas for when they actually hit. James Cameron is already in the very early stages of production on the films, and it also looks like the next shoot will officially begin on August 15 later this year. Unfortunately that doesn't mean that Avatar 2 will be released in 2018, as was originally planned. But it should at least arrive soon-ish, Avatar 3, Avatar 4 and a final film following at some point. We'll let you know when one of these is finally cemented.
Your Daily Blend of Entertainment News