Weekend Box Office: The Boss Baby Holds The Top Spot, Smurfs Sequel Slips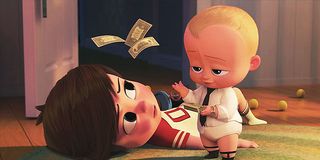 Angry old men, a village of little blue men (and women) and a baby man walk into a movie theater. The start of a joke? No, just three of the top four movies in one of the year's quieter weekends at the box office.
Of the three new wide releases, none were able to outsell last week's top two. The Boss Baby held the number one spot, adding $26 million for an $89 million total. That's a bit less than Dreamwork's last animated feature Trolls had banked by the same time in its release. The Beauty and the Beast remake past $400 million on Tuesday, and added $25 million this weekend, bringing its total domestic sales to date to $432 million.
The third entry to the CG Smurfs series, Smurfs: The Lost Village bowed in at a franchise low of $14 million. That's well down from The Smurfs' $35 million opening in 2011 and shy of the $17 million debut of the 2013 sequel The Smurfs 2. Smurfs: The Lost Village is the only one of the three made for less than $100 million. With a $60 million production budget this time around, the movie is on track to make a decent profit, but only thanks to substantial interest in foreign markets.
Zach Braff's Going in Style opened at fourth place with $12 million. Braff has been picky about his film projects, and his last two feature films were both also his own writing creations. Going in Style is his first movie written by someone else, and while it's not box office gold, it has already out sold his last movie Wish I Was Here (total domestic gross of $3.5 million) and is set to out gross his debut project Garden State ($26 million).
Religious drama The Case for Christ managed to just break the top ten, banking $3.9 million for a tenth place opening.
For the full weekend top ten, check out the chart below:
Your Daily Blend of Entertainment News
Thank you for signing up to CinemaBlend. You will receive a verification email shortly.
There was a problem. Please refresh the page and try again.