Weekend Box Office: Fate Of The Furious Holds Top Spot, The Promise Fails to Deliver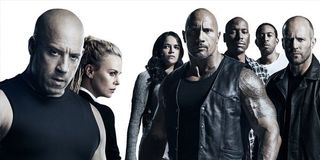 The latest Disney nature documentary was the top newcomer of the week, but only managed a fourth place debut.
Beginning in 2009 with the wildly successful Earth, Disneynature has released a new nature documentary almost every Earth Day. The films have never been major box office draws, usually opening between $4 million and $8 million. This year's offering, Born in China, was no exception taking in $5 million.
The Fate of the Furious held the number one spot for a second weekend, adding $38 million to its current $163 million domestic haul. Four-week-old The Boss Baby stayed at number two with $12 million, and the Beauty and the Beast remake, now entering its sixth week, added $9 million to its $471 million total.
Christian Bale is certainly a bankable Hollywood figure, but once in a while even his presence can't elevate a project to profitability. The Promise proved to be one of those stumbles, starting out this weekend with a ninth place wide release but only $4 million in sales against an estimated $100 million production budget. The movie has yet to see foreign release sales, but it's a safe bet The Promise will wind up one of 2017's bigger box office sinkers.
Unforgettable didn't win the hearts and minds of critics or audiences this weekend. After a harsh panning, it opened at number seven with $4 million.
James Gray's The Lost City of Z enjoyed success in limited release last weekend, but only just made the top ten with an expansion to just over 600 locations. It took number ten with $2.1 million. That was slightly better than newcomer Phoenix Forgotten, a $3 million horror flick that manages $2 million on its opening weekend for an eleventh place launch.
For the full weekend top ten, check out the chart below: