The Guy Who Threw Acid After A Straight Outta Compton Screening Has Been Sentenced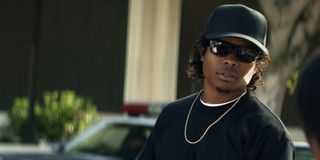 It's been nearly two years since Straight Outta Compton had a good run in theaters, earning critical acclaim and a pretty good profit, as well. This also means it has been nearly two years since Samir Hussain first had acid thrown on him following a screening of Straight Outta Compton at Cineworld Cinema in Crawley, West Sussex. Now, the acid thrower has finally been sentenced for the heinous crime. Michael McPherson has gotten an 8-year prison sentence for dousing Hussain with drain cleaner after the screening.
Back in September of 2015, Samir Hussain was doused with drain cleaner after a late night screening of Straight Outta Compton. During the screening Michael McPherson and his friend Lee Bates had thrown insults at Samir Hussain before following him out to the parking lot. At the time, the police were working on limited information, that the men were white, in their late twenties or early thirties and drove off in a Peugeot. It wasn't until February that Michael McPherson and Lee Bates pleaded guilty to committing the act, which was denoted as "common assault" by the local court system. Bates, who didn't throw the acid, was given a 2-year conditional discharge.
Although Samir Hussein is finally seeing this chapter of his life close following the sentencing of the two men, his ordeal is far from over. Even two years later, he is still dealing with a slew of skin grafts and having to answer questions about what happened to his face. He still deals with physical pain and he's spoken out in the past about how people can never tell when he's joking because of the way his face is now. He told the Mirror that he just wishes the sentence would have been longer.
An injury like this is horrifying, and I'm sure it's little comfort to Samir Hussein that at least he still has his life, his job and his friends and family following what happened at the theater that fateful day. Still, we hope that in time the scars will heal and that he'll be able to move on. No one deserves to deal with attacks at any point, but it's horrible to think that Hussain was simply leaving a theater when his life changed forever thanks to a random act of violence. Let's hope Michael McPherson moves on following his prison sentence and stays out of trouble, whether he's at the movies or not.
Amazing Race & Top Chef superfan with a pinch of Disney fairy dust thrown in. If you've created a rom-com I've probably watched it.
Your Daily Blend of Entertainment News
Thank you for signing up to CinemaBlend. You will receive a verification email shortly.
There was a problem. Please refresh the page and try again.