Man Sentenced To Two Years In Jail Over Kung Fu Panda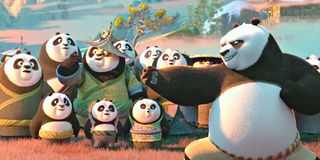 Back in 2013, DreamWorks Animation was in the middle of a lawsuit that was heading to court related to the Kung Fu Panda franchise when the plaintiff, artist Jayme Gordon, suddenly dropped his complaint. Four years later that same artist has been sentenced to two years in prison for attempting to defraud DreamWorks animation of $12 million dollars. He has also been sentenced to pay $3 million in restitution to the company, which spent that much on legal fees during the original lawsuit. Here's what happened.
It seemed like a really strange move when Jayme Gordon had backed out of the lawsuit he had put together back in 2013. At the time, the lawsuit was set to head to trial, and Gordon seemed at the outset to be in a pretty good position. He had already been a part of a plot by DreamWorks Animation to set in motion a summary judgment motion, and a federal judge had denied that, effectively moving his case, which claimed he had produced artwork similar to the characters found in the 2008 flick Kung Fu Panda, forward to trial. He had also noted he had created the character in the 1990s and had even copyrighted similar artwork to the movie in 2000, prior to the DreamWorks film's release.
Then it all came crumbling down, as DreamWorks Animation lawyers argued Jayme Gordon had actually taken his own Kung Fu Panda artwork from a coloring book with strikingly similar illustrations. He had also backdated and even fabricated drawings of his characters in the hopes he could achieve a big payout. In 2015, the U.S. Attorneys office went after him for fraud, noting that copyright laws are meant to protect individuals and not help them to try to scheme their way into big payouts from large companies.
According to Deadline, in November of this year, Jayme Gordon was found guilty of both fraud and perjury. However, he had to wait until May for sentencing to commence. Prior to this week's big announcement, word on the street was he could have earned up to 25 years in prison and a $500,000 fine. He got off light on the prison sentence. He did not get off light when it came to paying back DreamWorks Animation.
Copyright law can get really complicated. It was only a few days ago that Khloe Kardashian actually got sued for sharing a photo of herself on social media that another person had actually taken. In this case, it looks like Gordon was trying to earn money for an idea he had not, in fact, created. As for DreamWorks Animation, the company has made a killing off of the Kung Fu Panda franchise, bringing in $521 million globally for Kung Fu Panda 3, which hit theaters last year. Other potential sequels to the original movie have been rumored to eventually be in the cards.
Amazing Race & Top Chef superfan with a pinch of Disney fairy dust thrown in. If you've created a rom-com I've probably watched it.