New Look At The Mummy Reveals A Major Twist About Tom Cruise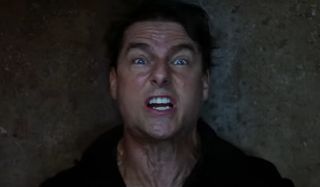 Spoiler Warning: There are some spoilers ahead for The Mummy. While Universal Pictures were obviously happy to reveal them to the public, they might be a little too revelatory for some of you out there. So please proceed cautiously.
Normally studios like to keep the biggest revelations about their blockbusters completely hidden from the public until the films are actually released. And while I'm sure there will be plenty of reveals and surprises in The Mummy once it finally crashes into cinemas later this summer, the latest trailer has already confirmed that Tom Cruise is both possessed and will have equal powers to The Mummy. Need proof? Here's a spooky look at his character Nick Morton with two corneas in his eyeballs. It's freaky.
I must admit that this seems like a pretty ingenious way to approach the reboot of The Mummy, which is what we should really have expected considering that the script has been written by Jon Spaihts (Prometheus, Doctor Strange) and Christopher McQuarrie (The Usual Suspects, Mission: Impossible -- Rogue Nation). You can fawn over just how majestic The Mummy looks by watching the latest trailer for the film below.
Isn't Tom Cruise just the greatest? Despite the fact that he's 54, he continues to throw himself into action scenes with the vigor and enthusiasm of a much younger man. Clearly we can expect more of the same in The Mummy; however, this time around his stunts will come with a supernatural tinge that we haven't seen from the actor since Interview With The Vampire.
The prior trailer for The Mummy confirmed that Tom Cruise's Nick Morton miraculously survived the plane crash that opened the footage, and the latest sees Russell Crowe's Dr. Henry Jekyll explaining to Cruise that he only did just that because he was cursed by Sofia Boutella's Mummy. Unfortunately for Tom Cruise, I've got a very bad feeling that things aren't going to go so well for him in The Mummy. Not just because the trailer clearly shows him being tossed around like a rag-doll by the titular phenom, but also because not too many good things come of being cursed.
At least the latest trailer for The Mummy shows that Tom Cruise and his co-star Annabelle Wallis will be able to make us smile through their shenanigans, as the footage has teased that the film will definitely have a sense of humor. We'll get to see just how funny The Mummy actually is when it's released on June 9.
Your Daily Blend of Entertainment News