When M. Night Shyamalan's Glass Is Finally Moving Forward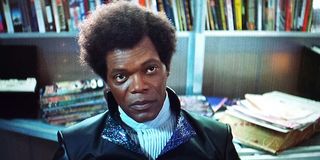 Split's advertising and marketing presented it as just another creepy thriller from the mind of M. Night Shyamalan, but in typical Shyamalan fashion, there was a twist being saved. In the final minute of the movie, it was revealed that Split existed in the same world as Shyamalan's 2000 feature Unbreakable, and 2019's Glass will serve as a crossover sequel to both stories. Glass' development has moved impressively quickly since it was announced, and according to Samuel L. Jackson, who will reprise Mr. Glass, filming is kicking off next month. Jackson said:
From Glass' official announcement to M. Night Shyamalan completing the initial script in April to beginning production this fall. this project is moving swiftly to make its early 2019 release date. Jackson revealed when principal photography begins while plugging The Hitman's Bodyguard alongside Ryan Reynolds during an interview with Collider, but didn't provide any other details about what we can expect from Glass. In addition to Jackson returning as Elijah Price/Mr. Glass, Bruce Willis will reprise his Unbreakable character David Dunn, while James McAvoy and Anya Taylor-Joy will return as their Split characters Kevin Wendell Crumb and Casey, respectively. American Horror Story star Sarah Paulson has also signed on for a yet-to-be-revealed role.
When we last left off with David Dunn and Mr. Glass in Unbreakable, the former had learned about the latter's crimes after experiencing his unique visions. Mr. Glass was charged for murder and terrorism, but he didn't seem too bothered by being sent to prison, as he'd accomplished his goal of becoming the villain to Dunn's hero. As for the Split leads, that movie concluded with Kevin being taken over by his hidden 24th personality, The Beast. Casey managed to avoid being killed when The Beast saw her scars and saw these as being "touched," i.e. having suffered, and thus being pure. But Kevin's body is now being controlled by not just The Beast, but the other alternate personalities Dennis, Patricia and Hedwig. The world knows he's on the loose, and Dunn confirmed the similarities between this new menace and and Mr. Glass from 15 years earlier.
So far no information about Glass' story has been officially released yet, although the movie will presumably see David Dunn clashing with The Beast, as he's the only person (that we know of) who has strength rivaling the Split baddie. M. Night Shyamalan did post a cryptic clue last month when he tweeted about his latest script update, saying, "Looked through character's eyes this pass. Let them messy up the plot in any way they wished." Feel free to analyze that to your heart's content, but since the cameras on Glass start rolling next month, hopefully that means we'll learn a few concrete details about the movie before the year is finished.
Glass will be released in theaters on January 18, 2019.
Connoisseur of Marvel, DC, Star Wars, John Wick, MonsterVerse and Doctor Who lore. He's aware he looks like Harry Potter and Clark Kent.
Your Daily Blend of Entertainment News
Thank you for signing up to CinemaBlend. You will receive a verification email shortly.
There was a problem. Please refresh the page and try again.