First Creed 2 Trailer Shows A Muscle-Bound Michael B. Jordan Getting Back Into The Ring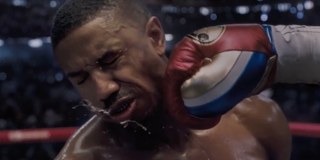 If there's one thing the Rocky franchise mastered, it was the art of the sequel. The scrappy Rocky birthed numerous rematches over the years, pitting the Italian Stallion against adversaries from all walks of like, and corners of the globe. Why should Creed be any different? After launching a spinoff character in 2015, Michael B. Jordan is back to continue the fight in November's Creed II, which just revealed its first trailer.
Creed was conceived as a continuation of the Rocky saga, only seen through the eyes of a new character. Adonis Creed (Michael B. Jordan) didn't grow up with a father, as Apollo Creed (Carl Weathers) was killed in the ring in Rocky IV. (If you haven't yet seen it, rent it NOW.) Apollo's death carries a ton of emotional weight for the players in this boxing soap opera. Rocky (Sylvester Stallone) still feels like he could have prevented the man's death if he'd only thrown in the towel during what was supposed to be a routine exhibition fight. And Adonis likely feels like the chance at having a complete family was ripped from him that day.
Which is why Creed II is being set up as a personal grudge match, because late in the trailer, it's finally revealed who his opponent is going to be: Drago.
Granted, that would have been a kick-ass reveal if the team behind Creed II, mainly Sylvester Stallone, hadn't been sharing on various social channels that fact that Ivan Drago's son, Viktor (played by Florian Munteanu), would be the adversary standing in Adonis' way for the sequel. In fact, those who follow Sly on Instagram saw the other big reveal that was kept out of this trailer. Dolph Lundgren also plans to reprise his Rocky IV role for Creed II.
Still, audiences are likely to get a rush just seeing Adonis (Michael B. Jordan) get back in the ring and continue his own journey. Teaming with Ryan Coogler, Jordan and Creed established a new storyline that audiences bought into, and the sequel will bring back Tessa Thompson and Phylicia Rashad to help develop the hopefully unique path that Adonis has to follow to redemption.
Creed II opens in theaters on November 21, where it will compete against Ralph Breaks the Internet: Wreck-It Ralph 2 and the Robin Hood remake starring Taron Egerton and Jamie Foxx. Stout competition, indeed.
Movie junkie. Infatuated with comic-book films. ReelBlend cohost. Resident dad. Extroverted introvert. Wants to see the Snyder Cut. Managing Director at CinemaBlend.