This Rotten Week: Predicting Peppermint And The Nun Reviews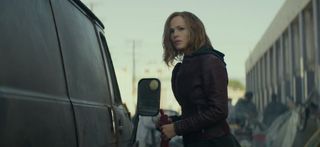 Now that we've hit Labor Day weekend, the summer season is coming to a close. It's the last gasp of beaches, barbecues, and, classically, big tentpole movies. But the end of the season just means that we have to start getting ready for the fall, and on Friday things kick off with Jennifer Garner getting revenge, and a woman of the cloth getting all creepy. Get ready for Peppermint and The Nun.
Just remember, I'm not reviewing these movies, but rather predicting where they'll end up on the Tomatometer. Let's take a look at This Rotten Week has to offer.
You can give me a lead with a "very particular set of skills" any day, and twice on Sunday. Put a little chip on their shoulder and a criminal organization that needs to be mowed through violently, and you've got a movie I'll sit down and watch. In Peppermint we have Jennifer Garner, whose family is gunned down by members of a drug cartel. She goes into hiding and trains herself to be a killing machine all for the opportunity to waste the baddies when she resurfaces five years later.
If it has something of a familiar ring it's because director Pierre Morel also helmed Taken (53%) and other similarly styled action flicks like From Paris With Love (37%) and Gunman (17%). The critical returns diminished with each movie, though I think there's some reason to expect a bounce back with his latest. Jennifer Garner looks the part of an ass-kicker in Peppermint, and the action appears tight. I don't think it completely wows anyone, but for sure will be watchable.
Man, the poster for The Nun is so off-putting taht it wasn't all that easy for me to fire up the trailer - which, yes, did creep the hell out of me. It's got all the makings of a fright-fest, with a haunted monastery inhabited by one seriously scary demon. Two folks from the Vatican are sent to investigate the suicide of a nun, and probably could have done themselves a favor by choosing to travel in the exact opposite direction of the incident.
The Nun is the latest part of the growing Conjuring Universe, which includes:
The Conjuring (86%)
Annabelle (29%)
The Conjuring 2 (79%)
Annabelle: Creation (70%)
That's three out of four flicks with very positive reviews, and I think we see another win in The Nun. The tone is so damn dark and scary, and the franchise has a solid track record of critical success, so I think we can make some basic assumptions about how it will do with critics. I suspect they come out on the positive side of things.
It was a very solid week for the Rotten Watch last time around, with one movie almost dead on, and the other missing the win zone by only one point. First off, Kin (Predicted: 35% Actual: 34%) nearly hit the bullseye, and it was fairly easy to tell this would miss with critics. The trailer didn't make a whole lot of sense, there didn't appear to be any real stakes, and the story seemed thin at best. It couldn't overcome a strong cast to make any real waves with critics who came away completely underwhelmed.
Meanwhile, Operation Finale (Predicted: 51% Actual: 62%) crept up just enough over the course of the week to put it just out of range. I'm going to still call this a win and imagine that another negative review will come in the short term. Critics generally liked the film, but even though the story itself is fascinating, Oscar Isaac and company didn't knock it all the way out of the park. Those who knocked it said the pacing was off and it never really fully gets going in terms of intrigue. It didn't perform poorly, but considering the subject matter, I could see how some would call it a disappointment.
Next time around we've got The Predator, A Simple Favor, _Unbroken: Path to Redemption _and _White Boy Rick_. It's gonna be a Rotten Week!
Doug began writing for CinemaBlend back when Terminator: The Sarah Connor Chronicles actually existed. Since then he's been writing This Rotten Week, predicting RottenTomatoes scores for movies you don't even remember for the better part of a decade. He can be found re-watching The Office for the infinity time.