This Rotten Week: Predicting Escape Room Reviews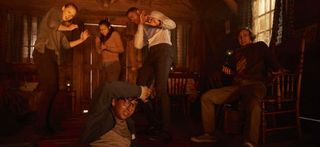 We've only got one movie on tap this week, but at least we get to see a group of millennials try to work their way out of a series of traps using their problem-solving skills. Seems like just the kind of horror movie for our modern times. Get ready for Escape Room.
Just remember, I'm not reviewing these movies, but rather predicting where they'll end up on the Tomatometer. Let's take a look at This Rotten Week has to offer.
You have to love the somewhat narcissistic nature of our society that we would have a movie proposing a scenario in which someone (or some entity) spends millions and millions of dollars putting a certain group of someones through an elaborate torture scenario. It really signals to us (as a collective) that someone cares enough to watch us go through a particular kind of puzzle-solving hell.
Such is the case with Escape Room in which a group of strangers is tasked with getting out of all kinds of crazy s@#$ for reasons completely (or mostly) unknown. Adam Robitel directs after helming Insidious: The Last Key (32%). So he's got some horror experience without it being received all that well. I can't imagine this latest rates all that much better. While the plot does have that "ever-escalating' feel much like other flicks in the genre, it just doesn't appear to tread any new ground.
The Rotten Watch went two for two last week around with both movies falling within ten percent of the prediction. Vice (Predicted: 68% Actual: 64%) came easily within range and was rather predictable considering the subject matter and somewhat tongue-in-cheek approach to the Bush/ Cheney partnership that took over the White House. Adam McKay looked like he took much of the same fast-paced approach to a larger issue he used with The Big Short. It didn't have the same critical success, but by and large, the reviews trended positive.
Meanwhile, Holmes and Watson (Predicted: 0% Actual: 9%) was the rare edge case prediction that completely worked out. Going the full 0% and having it fall within range is both a massive win and massive loss. I suppose I look great for it, but man did this movie ever finish in the bottom of the barrel. It sure looked like the film relied completely on the Ferrell-C. Reilly dynamic without ever worrying if the rest of the story would hold up. It didn't and the manufactured laughs weren't enough to overcome the failings.
We'll be back next time around with A Dog's Way Home, Replicas and The Upside. It's gonna be a Rotten Week!
Doug began writing for CinemaBlend back when Terminator: The Sarah Connor Chronicles actually existed. Since then he's been writing This Rotten Week, predicting RottenTomatoes scores for movies you don't even remember for the better part of a decade. He can be found re-watching The Office for the infinity time.