This Rotten Week: Predicting Us Reviews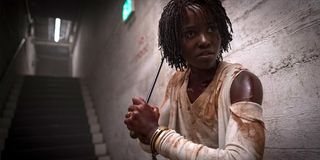 We've only got one movie on the docket this week, but it's definitely an exciting one, as we are once again seeing writer/director Jordan Peele return to the horror genre following the Oscar-winning success of Get Out two years ago. Get ready to meet the doppelgangers of your nightmares in Us.
Just remember, I'm not reviewing these movies, but rather predicting where they'll end up on the Tomatometer. Let's take a look at This Rotten Week has to offer.
After taking the horror world by storm, combining legit creeps with a commentary about race in America in the award-winning Get Out (98%), Jordan Peele is back. And his latest one looks, well, pretty fucked up in all the right ways. The guy is taking over the genre, and Us looks like it is going to be another huge win for the filmmaker
As we've seen previously in the genre, what we have here is another family outing/get together gone horribly wrong - this time the story playing out in a beach town where the Tyler family is stalked by... well, the Tyler family (just a creepier version). Where Get Out had plenty of frights with a slightly tongue-in-cheek tone, Us looks like a full-out horror fest. Even from the trailer one can tell the visuals will keep you up at night. Critics thus far are all over this movie. Following its debut at the SXSW Film Festival, it's currently sitting at 100% through more than 50 reviews. I doubt it slips much, if at all. It's tough to ever predict a movie hitting the 100% mark, and I don't think this one will end up at the top of the mountain - but it'll be damn close. We'll have one or two negatives come in over the course of the week, but the sentiment will remain the same.
While only one of the movies fell within ten percent of my predictions last week, the other two came incredibly close to being called wins. When it's all said and done, and a few more reviews come trickling in, this week could look a lot better. Captive State (Predicted: 48% Actual: 49%) was nearly right on the money, dipping down under the 50% mark from Saturday into Sunday. Critics fell mostly in line with what I suspected was the case: the movie had too many moving parts. While the central theme is intriguing, they tried to do too many things within the framework and it ended up being confusing.
Meanwhile, Five Feet Apart (Predicted: 39% Actual: 52%) was looking like a clear win until it ticked up over 50% in the last two days. Frankly, I'm kind of shocked it fell out of range. Of the three movies from last week, this prediction was my most confident. Critics seemed to mostly agree that the two leads carried the movie out of the sappy and cliched depths it could have ventured considering the subject matter.
And finally, Wonder Park(Predicted: 41% Actual: 30%) also just missed the mark. See what I mean with this week? This could easily be a three-for-three. This animated movie had critics incredibly un-enthused. The general theme of the reviews was the plot line was just way too sad for what should be a sort of joyous kids' flick about imagination and, well, wonder.
Next time around we've got Dumbo. It's gonna be a Rotten Week!
Doug began writing for CinemaBlend back when Terminator: The Sarah Connor Chronicles actually existed. Since then he's been writing This Rotten Week, predicting RottenTomatoes scores for movies you don't even remember for the better part of a decade. He can be found re-watching The Office for the infinity time.