To 3D Or Not To 3D: Buy The Right Toy Story 4 Ticket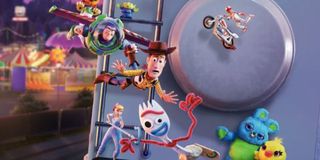 It's time to open the toy box and join Woody, Buzz, Jessie and the rest of the toys in their brand new adventure with Toy Story 4! The legendary toy crew, with their recent friends from Toy Story 3 in tow, are ready to bring entertainment and excitement back to the big screen for another astounding adventure. But is it worth the extra 3D money, or are you better off saving for a mint, in-box Gabby Gabby doll?
In other words, we're asking that special question: to 3D, or not to 3D? If you're curious how we felt about Toy Story 4 as a film, head over to our official review and find out. Otherwise, it's time to put on your glasses, and travel to the 3D window, and beyond!
3D Fit Score: 5/5
Toy Story movies have always been a visual feast, with the scaling of the toy world providing even the most mundane of settings with a special edge in the name of action and adventure. And in the lead up to Toy Story 3, the first adventure in the franchise to go 3D, those first two films in the series were also converted into 3D presentations. Naturally, making Toy Story 4 a 3D spectacle was only keeping up with the rest of the series' history.
Planning & Effort Score: 4/5
The majority of the planning and effort that went into Toy Story 4's 3D narrative are pretty spot on. As a total product, the film adds a fair amount of visual magic to the film, and in terms of projecting items off the screen, it actually does a lot better than some other films manage to accomplish on their own terms. If there is a major setback when it comes to the enjoyment of the 3D involved, it's naturally the brightness factor, which makes the darker night scenes more difficult to watch. And there are quite a few of those scenes involved in Toy Story 4. Be warned.
Before the Window Score: 4/5
For as much as the history of Pixar's 3D conversions has been filled with a share of products ranging from questionable to passable, they seem to be on a roll when it comes to improving their 3D game. Toy Story 4 represents another effort that's shown improvement visiting Pixar's capabilities to present the audience with an exciting 3D trip they'll be glad to take, especially when it comes to objects flying off the screen. While it's not a consistent effect throughout the entire movie, there's a good smattering of toys sliding, flying, and jumping at the audience's viewpoint; along with some crucial elements to the film's compliment of gags being used as good 3D fodder.
Beyond the Window Score: 4/5
The same praise can be visited upon Toy Story 4's ability to draw depth between its characters, their environments, and their backgrounds. The toys are clearly spaced from each other, and their backgrounds, which makes for especially good viewing when hiding or plotting from remote corners of the various fields of play. While the backdrops aren't consistently limitless, there's enough picture depth to show a wider world in the frame. Sometimes you'll find yourself getting lost in the picture's depth, while other times you'll find yourself hitting a theoretical wall.
Brightness Score: 3/5
As always, your mileage will vary when it comes to the brightness of the picture being presented with a film like Toy Story 4. That's simply because not all theaters maintain their projector rigs properly, be it due to the age of the equipment or the improper calibration while switching between 2D and 3D films. With the screening attended for this evaluation, the brightness was a major factor, as darker nighttime scenes that dominate parts of the narrative were harder to see than the usual day light scenes. And even those were a little grayer and more washed out than usual, once slipping on the 3D glasses for Toy Story 4's presentation.
Glasses Off Score: 4/5
Should you be tempted to take your glasses off, especially with a film as dim in picture as Toy Story 4, you'll notice that the screen looks a bit blurry. Depending on how blurry it is, what you see in front of you is how much the picture of the film has been manipulated in order to create a 3D illusion. The blurrier your picture is, the more it's been tweaked for its 3D presentation. In all aspects of this film's picture, there's varying degrees of blur combined to make the total package work to a pretty effective length. Your standard 2D points of reference are present, as per usual, and for the most part, the blur is present in the film's various backgrounds, with a lot of those 2D markers appearing towards the front and center of any given frame.
Audience Health Score: 4/5
The only problem you're going to have with watching Toy Story 4 in 3D is the fact that the film's brightness quotient is lacking to the point where it impacts certain scenes. But other than that, the film's visuals won't strain your eyes too hard, nor will they get confused by fast panning action shots. Nausea is also a factor that won't be plaguing the viewers sitting down to this particular 3D adventure, so you can safely dispose of your popcorn bags once they've been emptied.
Toy Story 4 represents further improvement when it comes to the 3D presentation of Pixar films at the movies. With some impressive action that'll make the audience flinch at incoming toys, or marvel at the depth of certain shots, buying a 3D ticket won't be a case of buyer's remorse. That said, if you want to trade depth of picture for scale, the film is also playing in large format presentations that might be more your speed.
This poll is no longer available.
Be sure to visit our full To 3D Or Not To 3D Archive.
Your Daily Blend of Entertainment News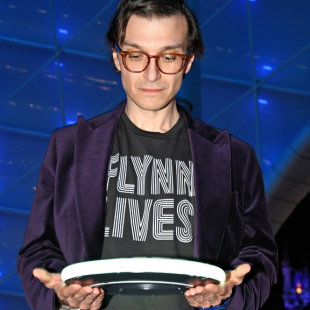 Senior Movies Contributor
CinemaBlend's James Bond (expert). Also versed in Large Scale Aggressors, time travel, and Guillermo del Toro. He fights for The User.