The 10 Best Liam Neeson Movies, Ranked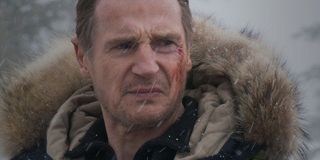 While it seems obvious now, years ago, no one would have predicted that Liam Neeson would be the most endurable action movie star of the last decade. Born June 7, 1952 in Northern Ireland, the actor has made a killing as Hollywood's definitive aging badass in countless movies, such as the Arctic survivalist drama The Grey or the grittier, big screen update of The A-Team, roles that started coming down the pipeline after Neeson starred as the hero of the international hit thriller Taken.
Before his string of seemingly endless and increasingly stylized action films took off, Liam Neeson led a very eclectic career on both screen and stage. Fortunately, he has not completely abandoned a knack for variety even after finding success in kicking ass.
Most recently appearing in Men in Black: International, now playing in theaters, it looks like Liam Neeson's A-list status has been cemented. But which are his best movies? I investigate below.
10. The Commuter (2017)
Liam Neeson had already cemented himself as the go-to star to play aging badasses in high-tension situations years earlier. With The Commuter, he showed us that if the formula works, don't bother fixing it.
In his fourth collaboration with director Jaume Collet-Serra, Liam Neeson is finally given the opportunity to take advantage of his natural Irish accent as Michael MacCauley, a cop-turned-insurance salesman who finds his daily train commute upended by an offer from a mysterious woman (Vera Farmiga). If he can find the one passenger on his train who "does not belong" he will be rewarded $100,000, which he desperately needs.
The Commuter is certainly not the best of Liam Neeson's action thrillers. Its cheesy dialogue, reality-bending stunts, and a plot eerily similar to his 2014 plane-set thriller Non-Stop (more on that later) can often be distracting, but, damn, is it well directed.
Jaume Collet-Serra's keen eye for crafting ingenious action sequences and Liam Neeson's signature fierceness keep The Commuter ferociously entertaining from beginning to end. If Neeson and Collet-Serra want to keep making the same movie over and over again together, as long as they do not forget how to make it fun, that is fine by me.
9. Kingdom of Heaven (2005)
Most would consider Liam Neeson's over-the-phone threat to his daughter's kidnapper in Taken (more on that later) as his greatest line of dialogue. I would say that the speech falls only second to his unbelievably badass claim near the beginning of director Ridley Scott's 12-century drama Kingdom of Heaven.
Godfrey de Ibelin (Liam Neeson) wakes up his son Balian de Ibelin (Orlando Bloom) for impromptu sword fighting training, the Hospitaler (David Thewlis) protests, informing him that Bailan's hand is hurt. Godfrey replies, "I once fought two days with an arrow through my testicle."
Despite his limited screen time in this 2005 period-piece set during the Crusades, Liam Neeson makes a huge impression on the film with his aging warrior character's memorable quotes of rousing inspiration that comes to be the most prominent source of motivation for his son, Orlando Bloom, throughout his crusade. Neeson's presence, even offscreen, is felt in Kingdom of Heaven's supremely epic battle scenes.
8. Non-Stop (2014)
You're probably thinking, Wait, didn't you already mention this movie at Number 10? No, you're thinking of the The Commuter, but you're not too far off either.
In his second collaboration with director Jaume Collet-Serra, Liam Neeson plays Bill Marks, a cop-turned-air-marshall who finds his routine flight upended by a text message from an unknown contact threatening to kill a passenger every 20 minutes unless given $150 million. If he can find the one person on the plane who is causing this madness he can save the passengers and prove his innocence, which he desperately needs.
Non-Stop is a "seen-one-seen-them-all" kind of thriller set on a plane, and also a bit of a "seen-on-seen-them-all" kind of thriller starring Liam Neeson, but do not let that discourage you. The film is actually smarter than you would believe, more exciting than you would expect, and, simply put, a surefire blast.
7. The Chronicles of Narnia: The Lion, the Witch and the Wardrobe (2005)
Liam Neeson has the kind of wise, old voice that could instantly earn your trust and keep you hanging on every syllable. Thus, the actor providing the voice of a lion with omnipotent authority over a land of fantasy is perfect casting.
In the adaptation of C.S. Lewis' beloved 1950 novel, The Chronicles of Narnia: The Lion, the Witch and the Wardrobe, the young Pevensie siblings find themselves transported to the titular world, filled with centaurs, talking rodents, and other magical creatures. They must help Narnia's king, a Lion named Aslan (Liam Neeson), defeat the White Witch (Tilda Swinton) and fulfill their prophesied destinies.
The film grossed more than $745 million worldwide and spawned two sequels from C.S. Lewis' book series, both of which Liam Neeson reprised the role of Aslan for. The Chronicles of Narnia: The Lion, the Witch and the Wardrobe is an Academy Award-winning epic of wondrous imagination and cutting edge special effects.
6. Darkman (1990)
In the early 2000s, Sam Raimi, creator of The Evil Dead trilogy, seemed to be an unlikely choice to direct Spider-Man given his horror roots. Of course, those Spider-Friends probably did not realize the director's first superhero film was released about a decade earlier with Liam Neeson in the title role.
Right after scientist Peyton Westlake (Liam Neeson) develops a synthetic skin that revolutionize skin grafting, he is attacked by criminals who fail to kill him, but leave him horribly disfigured. Using his synthetic skin to assume the identity of anyone of his choosing, Westlake takes revenge on his attackers as the new "face" of justice: Darkman.
Incorporating Sam Raimi's signature style of morbid, cartoonish humor, Darkman has since become a cult classic for its inventive concept, unique take on the vigilante crime thriller, and the rare sight of Liam Neeson's kookier side. Also, keep an eye out at the end for a fun cameo of The Evil Dead's Ash himself, Bruce Campbell.
5. Love Actually (2003)
I have made it clear from the aforementioned film on this list that Liam Neeson is one of Hollywood's most prominent modern badasses. We often forget, however, that the man can just as easily be a big softie.
That side of him was revealed most elegantly in Richard Curtis' romantic comedy classic Love Actually. The poignant and cleverly hilarious follows an ensemble cast of Londoners and their brutally realistic struggles with romance and other agonizing aspects of life around the most stressful time of the year, Christmas.
Liam Neeson plays a recently-widowed father (a plot point that is even more heartbreaking now, following the 2009 death of his wife, actress Natasha Richardson) trying to connect with his son, Sam (Game of Thrones' Thomas Brodie-Sangster), after the kid reveals he has found his first childhood crush. Love Actually is not the kind of rom-com you watch to simply feel good, but it is the kind of rom-com you watch to feel something real.
4. Taken (2008)
Few modern day action films are as influential as this gritty hit from producer and co-writer Luc Besson. Furthermore, is there a role from Liam Neeson as iconic as Brian Mills in Taken?
Retired CIA agent Brian Mills (Liam Neeson) comes to the rude realization that his concerns over his daughter's (Maggie Grace) trip to Paris were justified when she is kidnapped by sex traffickers mere moments after landing. Mills must travel across Europe to locate and rescue his daughter.
From the moment Brian Mills threatened his daughter's kidnappers with his "particular set of skills" over a very awkward phone call, Liam Neeson's career was never the same. With its grossly authentic depiction of human trafficking and Neeson's intense, passionate performance, Taken was a revolutionary moment for action films, igniting a new, seemingly unending movement within the genre: the aging badass.
3. The LEGO Movie (2014)
As I have mentioned, Liam Neeson is an actor who has expertly mastered both his softer and darker sides onscreen. Not until the release of this monster hit was he able to show off both within the same character.
The LEGO Movie, just about the greatest feature-length toy commercial ever made, follows average person Emmet Brickowski (Chris Pratt), who discovers he is destined to prevent Lord Business (Will Ferrell) from drowning the LEGO universe in eternal stasis. Liam Neeson shows up as Good Cop/Bad Cop, a lawman with a dual personality who hilariously causes trouble for Emmet.
The stop-motion animation blended seamlessly with CGI and beautifully accentuated themes about preserving your inner child make this Phil Lord and Christopher Miller-directed hit one of the greatest animated masterpieces in recent memory. Unfortunately, we never saw a return of Liam Neeson in the 2019 sequel, The LEGO Movie 2: The Second Part.
2. Batman Begins (2005)
After fighting against evil as the hero of Sam Raimi's Darkman, Liam Neeson must have wondered what it is like to play the other side of justice was like. Of course, unless you are a Batman obsessive, you do not discover that secret until the end.
After lying dormant following the diminishing critical and commercial reception of 1997's Batman & Robin, Christopher Nolan revived the Batman franchise in 2005 with Batman Begins, taking a darker, more grounded approach to the legendary comic book character. To fit the cape and cowl, Nolan cast Christian Bale and to play the man who trained him Henri Ducard (later revealed to be leader of the League of Shadows, Ra's Al Ghul), he cast Liam Neeson.
The dichotomy between Bruce Wayne and Ra's Al Ghul, two burdened warriors seeking justice with greatly opposing philosophies of how to achieve it, is one of the most intriguing aspects of Batman Begins. Heath Ledger's Joker may be the more memorable villain today, but Liam Neeson is just as poignant.
1. Schindler's List (1993)
Liam Neeson is known best today as the star of fun, entertaining popcorn films. Yet, widely considered to be his greatest film and one of the most important films of all time, is Schindler's List.
Liam Neeson received his sole Academy Award-nomination for this drama set during World War II in German-occupied Poland. He portrays Oskar Schindler, a greedy German industrialist who becomes an unlikely humanitarian after witnessing the persecution of his Jewish employees at the hands of the Nazis.
Shot in breathtaking black and white, Schindler's List is director Steven Spielberg's most personal film, being raised in a Jewish household, and easily his most heart wrenching with its brutally realistic depiction of the of the Holocaust. One of the film's most heartbreaking moments comes near the end with Liam Neeson as Schindler breaking down over the lives he failed to save out of his own ignorance.
Liam Neeson, indeed, has a particular set of skills. Skills that he has acquired over a long career. Skills that, at 67 years old, make him an actor audiences love still love to watch.
Your Daily Blend of Entertainment News
Jason has been writing since he was able to pick up a washable marker, with which he wrote his debut illustrated children's story, later transitioning to a short-lived comic book series and (very) amateur filmmaking before finally settling on pursuing a career in writing about movies in lieu of making them. Look for his name in just about any article related to Batman.