Jason Clarke's Loyalty To Stephen King's Book Kept Blowing Pet Sematary Scenes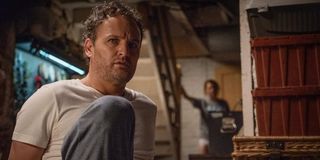 Sometimes, to be a fan is to be loyal to the ends of the earth. Stephen King is certainly no stranger to this phenomenon, as his career as a best-selling horror author has inspired legions of faithful fans to hold his works up as fright inducing gospel.
What might surprise some is that when it came to the Pet Sematary remake, they couldn't have made a better choice than to cast actor Jason Clarke as the beleaguered patriarch of the Creed family that runs afoul of the titular burial ground. And Clarke was so faithful to the material from that 1983 novel, that he technically kept blowing the production of several scenes in directors Kevin Kölsch and Dennis Widmyer's recent remake.
In honor of the home video release for the 2019 remake to Pet Sematary, CinemaBlend got to speak to the pair of directors behind the film, in addition to plumbing the depths of the film's home video special features.
Perhaps the crowning jewel of those features, besides the extended and alternate scenes and the promised alternate ending, is a behind the scenes look at the film's production, entitled "Beyond The Deadfall". Broken up into several parts, there's a ton of information about how Pet Sematary brought the classic Stephen King novel to life for a new generation of moviegoer.
It's there that the eager viewer is able to learn that not only is Jason Clarke a huge fan of the source material he was involved in adapting as an actor, but he was given a special nickname because of it: "The Archivist."
That nickname was bestowed upon him by Kölsch and Widmyer, the latter of which further explained just how deep Clarke's fandom ran, and in this particular anecdote, how it was as much of a curse as it was a blessing:
In Pet Sematary, "Oz The Gweat and Tewwible" is a concept originated in connection to the death of Rachel Creed's sister, Zelda, and throughout the book the invocation of that name is used to sinister effect. A metaphor for the specter of death, it's one of the many references to the original source that sticks with fans, and Jason Clarke is no exception to that.
What makes Jason Clarke's dedication to the original so interesting is that while the film does stay loyal to the concept and the world of Pet Sematary, it still made some pretty big changes to the ultimate endgame. Changes that were approved by Stephen King himself, but were adjustments nonetheless. That being said, it's not exactly something that translates to the screen all that well, as I learned when Dennis Widmyer continued to explain:
That wasn't the only reference that Jason Clarke would bring to the table though, as there were other small details that he'd throw into his performance in Pet Sematary that showed just how much he loved that book.
One particular example of an unscripted reference was during one of the deadfall sequences, where Jason Clarke's Louis Creed is about to bury his daughter Ellie. In the book, Jud Crandall mentions that he doesn't know exactly how many steps lead to the top of the deadfall; only for Louis to later remark that it was indeed 45 steps.
That original question isn't in the 2019 version of the film, but sure enough, Jason Clarke made a reference to it on set during the filming. Even something as small as using rocks from the ground itself for the ritual was a detail that he brought to the table, and as it was discussed in "Beyond The Deadfall", it did manage to also help Widmyer and Kevin Kölsch's directing at times.
Sometimes, the source material feels so foreign to a finished project like Pet Sematary, you have to wonder if the people involved even read the original book. That's certainly a claim that can't be made towards this film though, as the spirit of Stephen King's work is baked into every inch of the film.
While it's easy to see just how Jason Clarke's devotion to the written word of the original novel could hurt at times, it's always good to see someone bringing to much loyalty to the table, only to see it scaled back into a more reasonable context.
It's also a good word in Jason Clarke's favor for anyone who wants to make a Stephen King movie in the future, as bringing him into other projects centering around the author's work sounds like one of the best ideas a creative talent could ever have. When it comes to bringing legendary best-sellers to life, everyone can use a good archivist to keep things on the straight and narrow.
Pet Sematary is now available on Digital HD, 4K UHD, Blu-ray, and DVD; and you can order your copy here, if you're interested in taking it home. But be warned, what you buy is what you own.
CinemaBlend's James Bond (expert). Also versed in Large Scale Aggressors, time travel, and Guillermo del Toro. He fights for The User.