Fifty Shades Of Grey's E.L. James Has Some Anastasia Steele-Related Advice For Fans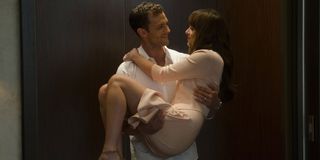 I'm pretty sure Christian Grey and Anastasia Steele would find interesting ways to amuse themselves during self-isolation, but for Fifty Shades of Grey writer E.L. James, the current worldwide circumstances have her putting herself out there on social media. In fact, she recently had some advice for fans and it is very much a play from Ana's own book.
In a fun new post, E.L. James asks fans to "embrace" their inner goddesses – just like Anastasia Steele manages to do during her popular series of books. Ana as a character starts out as a quiet bookworm but her inner goddess helps her to embark on a BDSM romance with Christian Grey. You can check out James' fun advice post below.
In E.L. James' fictional world, Ana's Inner Goddess is very active. I mean like "does three back flips over the gym floor" active. She wears "harlot-red lipstick" and does a lot of arabesques. On the big screen, Ana's more in charge of her own inner self and her inner goddess does not appear in Fifty Shades of Grey, Fifty Shades Darker or Fifty Shades Freed.
What reads well on paper may not be as cool when it's Dakota Johnson prancing around and showing off arabesque technique on the big screen. (Although she did get some ballet practice with Suspiria and has had dance training in real life…)
The inner goddess advice is not James' only advice-laden post, as the popular Fifty Shades of Grey author shared some practical advice the other day in regards to how to make cloth masks, which is certainly a practical skill set.
Less practically, like many of us, E.L. James also not immune to a bit of nostalgia, longing for the days when we could travel the globe and order room service from hotels. Here's a throwback to when the Fifty Shades movies were coming together at Universal still as well.
The popular author was involved in movies like Fifty Shades Freed as a producer and apparently nabbed this look at napkins from the Brown's Hotel in London, where Christian Grey and Anastasia Steele go as part of their honeymoon.
Meanwhile, while no new Fifty Shades movies are in the works, Universal has optioned the rights to E.L. James' newer novel The Mister. This means that once people are back to work, we will get another romantic project from the mind of E.L. James on the big screen -- and one with a connection to her first trilogy, to boot.
Of course, we'll be sure to keep you posted regarding any other details related to The Mister as they come down the pipeline. For now, my own inner goddess is simply fantasizing about the casting for the newer movie project. She's not wearing any harlot-red lipstick though.
Reality TV fan with a pinch of Disney fairy dust thrown in. Theme park junkie. If you've created a rom-com I've probably watched it.
Your Daily Blend of Entertainment News
Thank you for signing up to CinemaBlend. You will receive a verification email shortly.
There was a problem. Please refresh the page and try again.