5 Questions We Have About Lethal Weapon 5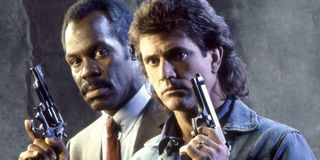 There's no question that the Lethal Weapon series remains one of the most beloved and respected action franchises in Hollywood history. Warner Bros. has tried for years to rekindle interest in the series by luring Danny Glover and Mel Gibson back to their signature roles for Lethal Weapon 5, though some dedicated fans worry that, yes, the leads both may be too old for this shit.
But that hasn't stopped the wheels of progress from turning on this production over the years, and there actually have been some positive signs indicating that Lethal Weapon 5 will make its way to theaters in the future. We may need to be patient. None of these moves are imminent. But there's plenty we can report on Lethal Weapon 5, so read on and see what we know about this long-awaited sequel.
Will Lethal Weapon 5 Happen?
The latest bit of news that we have heard regarding Lethal Weapon 5 is that it IS moving forward, so that's the good news. Producer Dan Lin was speaking with The Hollywood Reporter about his Oscar contender The Two Popes when he confirmed that Lethal Weapon 5 was in the pipeline at Warner Bros.
This news came after decades of false starts and fizzled plans. The last Lethal Weapon movie hit theaters in 1998, and rumors of a fifth movie have been hot and cold, with frequency, essentially since that time. But this 2018 interview with THR was the latest confirmation that executives and creatives were working on Lethal Weapon 5, and that they wanted it to move forward, so that's where we are in regards to the future of the anticipated movie.
Who Might Come Back For Lethal Weapon 5?
It wouldn't really be a Lethal Weapon movie without specific talents being involved, so the report that Lethal Weapon 5 is happening only really mattered because three names were attached to the project: Mel Gibson, Danny Glover and director Richard Donner. These three have been involved with the franchise from day one, and so long as they are willing to return to the series, the Lethal Weapon story can continue.
The Lethal Weapon in the title refers to Martin Riggs (Gibson), who was suicidal at the start of the franchise, but also an extremely efficient cop. He's paired with Glover's no-nonsense and by-the-book family man Roger Murtaugh, and this odd couple comes to learn that they are far more effective as a team than they ever could be apart.
Over the years, as Riggs and Murtaugh dealt with crooked cops, Asian crime lords and South African drug smugglers, the Lethal Weapon family grew. At the time of the discussion surrounding Lethal Weapon 5, no other cast members beyond Mel Gibson and Danny Glover had been attached to the sequel. Though, if Lethal Weapon 5 was going to follow the pattern established by the other movies in the franchise, we can expect director Richard Donner to try and bring back familiar faces such as Rene Russo (who plays Riggs' wife), Chris Rock (as Murtaugh's son-in-law) and possibly even Joe Pesci. Good luck on that last one, however. The actor has long since retired, and had to be coaxed back to the big screen by Martin Scorsese for The Irishman. I'm not sure he'd also come back for Lethal Weapon 5.
What Could Lethal Weapon 5 Be About?
There's one significant factor that Lethal Weapon 5 will have to address and be brutally honest with, and that's the age of its main characters. Even if the movie were to come out this year (which is won't), Danny Glover would be 73 and Mel Gibson would be 64. The idea that either of them would still be working for the LAPD would be ludicrous. Hell, Glover's character was trying to retire in the FIRST movie, but the series kept figuring out how to keep him employed and on the job. Now, though, they'd have to come up with something different.
Reports on the progress of Lethal Weapon 5 rarely got into plot specifics. There were reports that Richard Donner wants Lethal Weapon 4 screenwriter Channing Gibson (no relation to Mel) to come back and pen the script for Lethal Weapon 5. And in the aforementioned THR roundtable, producer Dan Lin expressed that the story they have for Lethal Weapon 5 is "very personal" to Dick Donner and the cast, suggesting that they do, in fact, have an idea they are pursuing. Which is great.
Back in 2016, original Lethal Weapon writer Shane Black – who has gone on to write and direct his own crime-comedy masterpieces – revealed a plan that he had for Lethal Weapon 5. His pitch acknowledged the fact that Riggs and Murtaugh were older, and he shifted the action from L.A. to New York City during a blizzard… which is a fantastic way to instantly freshen up the franchise. But Black hasn't been associated with the series in decades (too bad, as his contributions led to the best movies in the saga), so we don't see Channing Gibson using this idea if and when Lethal Weapon 5 moves forward.
Who Will Direct Lethal Weapon 5?
The same person who has directed all four Lethal Weapon films to date: Richard Donner. And really, without Donner's involvement, would they even do it?
I'm torn on that. We have seen multiple film franchises that move on from their original directors, such as the Terminator movies, the Die Hard films, and more. They don't always work. But every once in a while, someone like J.J. Abrams will swoop in and revive the Star Wars franchise with a movie like The Force Awakens. At the same time, Ridley Scott keeps getting deeper and deeper into the Alien franchise and really seems to have lost his way, so there are caution stories in both avenues, and none of us really know what to expect when Richard Donner returns with Lethal Weapon 5.
While everything that we have reported in this story suggest that Donner is coming back to conclude this series (he has said that the working title for Lethal Weapon 5 is Lethal Finale), it's worth pointing out that Donner hasn't helmed a movie since 2006's 16 Blocks, with Bruce Willis. And currently, Donner is 89 years old. Now, here's where I tell you that 89-year-old Clint Eastwood still releases, essentially, one movie a year. So it's very possible. And what a way to end a career!
What About The Lethal Weapon TV Show?
Ah yes, that's right. The Lethal Weapon television show. Well, the FOX series has no impact on the movie side of Lethal Weapon, and so will have no effect on Lethal Weapon 5. It's essentially a multi-verse story, where different actors (Clayne Crawford and Damon Wayans) played different versions of Martin Riggs and Roger Murtaugh. There were similarities to identities and structure of the characters and their relationship. But the TV show was free to explore different factors of how these characters existed, whereas Lethal Weapon 5 would have to carry through on important plot points that were introduced in the Lethal Weapon movies.
Like what? Well, when Lethal Weapon 4 ended, Riggs (Mel Gibson) and Lorna (Rene Russo) had their first child. And they got married… by a rabbi! Also, Murtaugh's oldest daughter Rianne delivered a child, as well, turning Roger into a grandfather. Officially, he is too old for this shit. But it also means that these two men, who we have followed for years, have a lot more to lose in their lives. And if Richard Donner has a story point that he calls "personal," then it could mean that there's a threat leveled at the family members of our two leads. We've seen action films introduce older versions of child characters in movie series. Will Lethal Weapon 5 choose to go in this direction?
The signs we have for Lethal Weapon 5 are far more positive than they ever have been in the past. If Richard Donner has a script, and a desire to close out the saga, then we absolutely can see both Mel Gibson and Danny Glover returning to their classic characters. Also, both men are still acting, as we saw them on screen in Boss Level and Jumanji: The Next Level, respectively.
We will continue to track the progress of Lethal Weapon 5, and also hope that the production delays that are currently plaguing the film industry don't lead to a pause in production that leaves the sequel on the Development Shelf for eternity. Stay tuned, and we shall see how this plays out.
Sean O'Connell is a journalist and CinemaBlend's Managing Editor. He's frequently found on Twitter at @Sean_OConnell. ReelBlend cohost. A movie junkie who's Infatuated with comic-book films. Helped get the Snyder Cut released, then wrote a book about it.
Your Daily Blend of Entertainment News
Thank you for signing up to CinemaBlend. You will receive a verification email shortly.
There was a problem. Please refresh the page and try again.