Kill Bill: 12 Killer Behind-The-Scenes Facts About The Quentin Tarantino Movie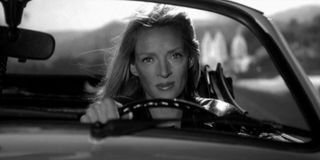 In a career filled with highlights, including Reservoir Dogs, Pulp Fiction, Inglorious Basterds, and, most recently, Once Upon A Time ... In Hollywood, Quentin Tarantino's Kill Bill Vol. 1 and 2 contain some of the famous filmmaker's most iconic imagery and signature stylistic showcases. Through Uma Thurman's ravenous lead performance, we follow a woman on a mission to kill the man who took everything from her. It's a bloody entertaining set of movies, and it features some of Tarantino's most extravagant filmmaking. The process of making these movies wasn't easy, but there are many great behind-the-scenes facts worth knowing about this action-packed endeavor. Here's what you should know if you love Tarantino's Kill Bill blockbusters.
Quentin Tarantino Put Kill Bill On Hold When Uma Thurman Got Pregnant
Sometimes, life gets in the way. The idea for Kill Bill was first hatched on the set of Pulp Fiction, as Uma Thurman and Quentin Tarantino discussed their love of martial arts movies and the conception of The Bride character. The final film credits the story to "Q & U," i.e. Quentin and Uma. The script was written between 2000 and 2001. He was ready to start shooting shortly after completing the script, but it was around that time that Thurman was pregnant with her second child, Levon Thurman-Hawke. While Tarantino briefly considered starting the project with a different actress, he quickly threw those notions aside. In an interview with the BBC, Tarantino claimed he "didn't have a choice." Considering that Thurman helped Tarantino come up with this idea, it'd be crummy if he did it without her.
Warren Beatty And Bruce Willis Were Considered To Play Bill
It's been said that casting is one of the biggest roles in directing. Whether you believe it's at the heart of 65 to 90 percent of directing, casting your movie is what helps make-or-break it. The work of a casting director is never easy; they have many actors to choose from in any given role. When it comes to the titular Bill in Kill Bill, Quentin Tarantino confirmed Warren Beatty was once sought for the role. Tarantino even wrote Bill with Beatty in mind, though the more intense focus on martial arts training caused Tarantino to rewrite it for the late David Carradine instead. Tarantino also claims Bruce Willis was considered at one point.
Quentin Tarantino Originally Planned to Play Martial Arts Trainer Pai Mei
It's not secret that Quentin Tarantino likes to put himself in his movies. While his acting talents aren't as celebrated as his writing or directing skills, his performances in Reservoir Dogs, Pulp Fiction, Death Proof, and Django Unchained are... memorable, to say the least. Sure enough, Tarantino was also planning to play a role in Kill Bill, and a pivotal one too. In an interview with IGN, Tarantino said he was once set to play Pai Mei, The Bride's martial arts instructor. But given how intensive it was to direct this eventually two-part movie, it was taking "everything" he had to helm the movie, to the point where he was no longer eager to play a part. Since this project was bigger than anything he'd done before, he had less energy to act as well as direct.
As Quentin Tarantino notes, "it seemed like a big pain in the ass and I just wanted to concentrate." Thankfully, Gordon Liu was on-board and Tarantino claimed it'd be "almost criminal not to cast him." So, it was an easy call. Liu got the part instead.
The Bride's Name Is Briefly Revealed On Her Plane Ticket In Kill Bill: Vol. 1
While The Bride/Black Mamba's name is eventually revealed in Kill Bill Vol. 2, Uma Thurman's character only goes by nicknames throughout the first film. Though if you pay close attention, we do get a blink-and-you-miss-it glimpse early on. Though we later learn that her name is Beatrix Kiddo in Kill Bill Vol. 2, there is a shot of a plane ticket in the first movie where we see her name written out plainly. Of course, it comes and goes from the screen so fast that few — if any — would be able to read it in time. Though, it's safe to assume that some folks caught this easter egg on VHS or DVD.
450 Gallons Of Blood Were Spilled In Kill Bill
There's a lot of bloodshed in the Kill Bill movies. Perhaps even more so than the other Quentin Tarantino movies that predated it, Quentin Tarantino did not hold back on the gore and violence in his two-part action saga, opting to show explicit and graphic acts of stylized carnage throughout The Bride's blood-soaked trail of revenge. Suffice to say, the crew needed gallons upon gallons of fake blood. How many gallons, you might ask? How about more than 450 gallons. That's a lot of blood. Indeed, as make-up effects artist Christopher Allan Nelson revealed in Time Magazine, that's how much fake blood they needed to have on-hand to "spray, spill, and otherwise discharge" throughout the production process of Tarantino's two-part action movie.
The Filmmakers Used Condoms For The Blood Effects
If you're wondering why Quentin Tarantino opted to have so much fake blood on-set, it's because the old-fashioned filmmaker was adamantly against using any sort of CG blood effects in his movies. He wanted to replicate the look of the movies he watched and adored in the '70s, and that meant he borrowed a few of their filmmaking tricks along the way. For instance, the filmmakers reportedly used Chinese condoms filled with fake blood for a few of the blood-splatter shots seen throughout Kill Bill Vol. 1 and 2. While this low-tech process is certainly strange, it got the results that he wanted here.
It Took Two Months To Film The Crazy 88 Scene
On average, a movie takes anywhere between four-to-ten weeks to shoot. Sometimes, it's shorter. Sometimes, it's longer. In the case of Kill Bill, it was much, much longer. Specifically, Kill Bill's production took 155 days, or roughly a little over five months (give or take, of course), from start-to-finish. One notable reason why the production went so damn long was the climatic Crazy 88 sequence — where The Bride fights O-Ren Ishii (Lucy Liu) and 88 yakuza —that memorably bookends Kill Bill Vol. 1. As Time Magazine reports, it took eight weeks (or two months) to film this action sequence, i.e. the same amount of time some productions take to film their entire movies. Given all the intensive fight choreography and complicated camera work at play, it's understandable why it took an extra long amount of time.
Chiaki Kuriyama Accidentally Hit Quentin Tarantino With The Ball And Chain
On movie sets, you want everything to go as smoothly and safely as possible, but that's not always the case, unfortunately. But it's rare that the person who gets hurt is the director (unless it's, say, a Jackie Chan movie). Alas, as it was revealed in James Egan's book, 3000 Facts About The Greatest Movies Ever, when Chiaki Kuriyama filmed the scene where she swung a ball-and-chain, the actress accidentally whacked Tarantino, who stood too close to the camera.
Quentin Tarantino Was Inspired By Jackass: The Movie To Make Kill Bill Vol. 2 More Chaotic
Inspiration can come from a variety of sources. Quentin Tarantino is undeniably a student of film, and his film diet covers all plains of cinema — from exploitation movies to arthouse foreign language films. With that in mind, it's not too surprising to learn that 2002's Jackass: The Movie played a role in influencing Kill Bill Vol. 2, though it's a delightful bit of trivia nonetheless. As it was revealed in Entertainment Weekly by Daryl Hannah, who played the one-eyed Elle Driver, the brawl between her character and Uma Thurman's The Bride became even more "gross and nasty" because Tarantino was obsessed with Jackass: The Movie and believed he needed to up the ante in terms of his own fight sequences. Sure enough, this fight scene became a pretty violent affair.
Quentin Tarantino Owns The Pussy Wagon And Loans It Out Sometimes
If you're a major movie fan, which would make sense since you're reading CinemaBlend, you've probably wondered what happened to some famous movie memorabilia. Is it located in a closet somewhere? Collecting dust in some warehouse? Sitting idle in some faraway museum? Unfortunately, we don't have all the answers. But we can tell you where the crudely-named Pussy Wagon resides.
Quentin Tarantino makes it no secret that he owns the signature vehicle, and he was prone to driving it around in the weeks before-and-after the first film's release to drum up word-of-mouth. Since then, the car has generally stayed in his residence, though if someone asks, he'll graciously loan it out. For example, it made cameos in Missy Elliott's "I'm Really Hot" music video and Lady Gaga's "Telephone" music video. In fact, for the latter, it was Tarantino's idea.
Kill Bill Vol. 1 Was The First Quentin Tarantino Movie To Feature Less Than 100 Utterances Of The F-Bomb
In addition to grisly violence, quippy dialogue, and stylish camerawork, explicit language is something you commonly expect in Quentin Tarantino's films. The screenwriter-director is prone to giving characters four-letter-words and other taboo things to say, to the point of controversy, but Kill Bill Vol. 1 was the first time there were less than 100 utterances of the f-word in one of his films.
As it was extensively researched and reported by The Dallas Observer, there are only 16 times when the f-bomb was dropped. Similarly, there was only 26 times the cuss is said in Kill Bill: Vol. 2. While that's certainly more times than, say, The Angry Birds Movie 2, it's admittedly restrained for Tarantino, who used the f-word between 130 and 269 fucking times in his previous three films.
The Idea Of Splitting Kill Bill Into Two Movies May Have Started As A Joke
In its early inception, Kill Bill was envisioned as one super-long film. Seen as one big, epic story, the original four-hour version of Kill Bill was shown at the Cannes Film Festival during its premiere, but it hasn't been seen much elsewhere. As the eventually two-part film was being put together, Quentin Tarantino and producer Harvey Weinstein reportedly joked about the possibility of splitting Kill Bill into two films. But over time, especially during the editing process, it became no laughing matter.
As Variety reported, the two-part plan became a tantalizing win-win for both the filmmaker and the producer. Notably since Weinstein liked to hack scenes from movies in favor of shorter runtimes, the two-part plan kept the movie(s) at a reasonable length. And it allowed Miramax to sell the same movie twice.
Meanwhile, for Quentin Tarantino, it allowed Kill Bill to be presented as he envisioned it, without having to cut out anything he'd hate to lose. In that sense, Tarantino could release his three-hour epic (albeit in a two-part fashion). It was a rare moment where the creative and economic sides of the industry found a win. But over the course of the past ten years, there's been growing interest to release the longer cut. It did screen at Tarantino's New Beverly Cinema, and there have been rumors and reports over the years that suggest that the four-hour cut of Kill Bill, subtitled The Whole Bloody Affair, will see the light of day. Whether it's unveiled on Netflix or elsewhere, we should expect it one day.
What are some other fun facts you know about Quentin Tarantino's Kill Bill movies? Let us know in the comment section!
Will is an entertainment writer based in Pittsburgh, PA. His writing can also be found in The Playlist, Cut Print Film, We Got This Covered, The Young Folks, Slate and other outlets. He also co-hosts the weekly film/TV podcast Cinemaholics with Jon Negroni and he likes to think he's a professional Garfield enthusiast.
Your Daily Blend of Entertainment News
Thank you for signing up to CinemaBlend. You will receive a verification email shortly.
There was a problem. Please refresh the page and try again.