Enter For A Chance To Win CinemaBlend's Huge Horror Film Giveaway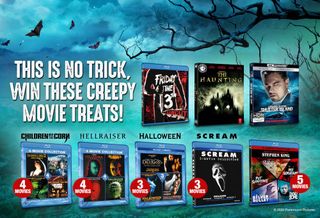 Trick or treat yourself this Halloween with this huge horror movie collection! One winner will win the entire collection. The giveaway ends on October 26th at 12:00 p.m. CT. Complete the form below for your chance to win all of these films:
Hellraiser 4 Movie Collection Blu-ray
Scream 3 Movie Collection Blu-ray
Children of the Corn 4 Movie Collection Blu-ray
Halloween 3 Movie Collection Blu-ray
Stephen King 5 Movie Collection Blu-ray
Shutter Island 4K Ultra HD Combo Pack
The Haunting Blu-ray
Friday the 13th Uncut Blu-ray
Official Rules: Just submit your information above. The sweepstakes ends at 12:00 pm CT on October 26th, 2020. The winner is chosen at random and will be notified via email. Only U.S. residents over the age of 18 may apply. No purchase necessary. Participants can be disqualified for any reason. Failure to comply with the rules will result in disqualification and subsequent mockery. Any shipping issues are not the responsibility of CinemaBlend. Good luck!
Your Daily Blend of Entertainment News
Thank you for signing up to CinemaBlend. You will receive a verification email shortly.
There was a problem. Please refresh the page and try again.