Get Shorty's Lead Role Was Written For Danny DeVito, And Only One Major Change Was Made For John Travolta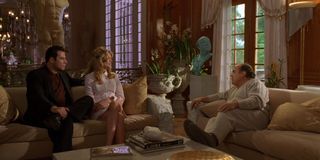 Barry Sonnenfeld's Get Shorty turns 25 this week, having been first released in October 1995, and while there is a great deal to appreciate about the film in retrospect, there's no arguing the highlight that is John Travolta's turn as gangster-turned-producer Chili Palmer. Arriving in the wake of Pulp Fiction, the performance confirmed the actor's reawakened star power, and he brought the character to life with the perfect mix of cool and dangerous. His face is now what one imagines when reading Elmore Leonard's original novel – which is pretty funny when you consider that it definitely wasn't Travolta who was in the minds of Sonnenfeld and screenwriter Scott Frank when the movie was originally coming together.
Had things gone differently in the making of Get Shorty, Danny DeVito would have been the actor playing Chili Palmer, having been involved with the production from the very start. Barry Sonnenfeld was first inspired to make the crime comedy because he read the book on a cruise and immediately imagined DeVito as the protagonist, and that in turn led the actor/producer to personally buy the film rights. So when Scott Frank started to pen the script for the adaptation, it was with the Batman Returns/Junior star in mind as the lead.
In celebration of Get Shorty's big 2020 anniversary, I had the pleasure of interviewing Scott Frank earlier this year, our conversation reflecting on the entirety of the experience making the film, and part of our conversation was dedicated to the evolution of Chili Palmer. Starting at the start, I asked if the screenwriter had specifically written the role with the intention that Danny DeVito would play it, and his answer was absolute:
Sound like a certain movie character? That's the kind of fortitude needed for a shylock who arrives in Los Angeles and manages to become involved with the development of two feature films within a week. A person pulling something like that off realistically requires a special kind of energy, and Scott Frank took that from his impression of Danny DeVito and put it on the page in the form of Chili Palmer.
Unfortunately, that version of Get Shorty never came to be as a result of the film's extensive time in development – the result of a number of factors, including the industry's lack of confidence in Elmore Leonard adaptations at the time (something that seems pretty funny when you consider the amazing works that has been made since then, including Jackie Brown, Out Of Sight, and the television series Justified). Danny DeVito became unavailable to play Chili because of his commitments to star in and direct the movie Matilda, so he took on the smaller role of Martin Weird instead.
As revealed in Barry Sonnenfeld's autobiography "Barry Sonnenfeld, Call Your Mother: Memoirs of a Neurotic Filmmaker," the director ended up meeting with a number of stars as possible replacements, including Warren Beatty and Dustin Hoffman, and it was Stacey Sher, a producer at Danny DeVito's Jersey Films and an Executive Producer on Pulp Fiction, that suggested John Travolta. The star actually passed on Get Shorty at first, and ultimately had to be convinced to say yes by Quentin Tarantino – but the funny addendum to the story is that the part of Chili Palmer didn't change much at all when the role traded hands.
Keeping their respective careers in mind, it's strange to think that Danny DeVito and John Travolta could be considered for what is basically the exact same part, but that was the situation as Scott Frank explained it to me during our interview. According to the screenwriter, there wasn't any kind of John Travolta-centric redraft when he came onboard, and noted only one "major" change that was made to fit the star:
And it should go without saying that the addition was an excellent one. The story of a gangster getting into the movie industry is compelling all by itself, but one of the reasons why the audience connects with Chili so well is because his decision to make a career choice is driven by personal passion (in addition to wanting to rid his life of asshats like Dennis Farina's Ray "Bones" Barboni).
So next time you watch Get Shorty (and, really, what better way is there to celebrate the anniversary?) perhaps take a moment to envision what it would be like to see Danny DeVito as Chili Palmer, as it may give you a whole new perspective of the film.
This is only the tip of the iceberg when it comes to stories from my in-depth interview with Scott Frank about the making of one of the best crime comedies of all time, so stay tuned here on CinemaBlend for more!
NJ native who calls LA home; lives in a Dreamatorium. A decade-plus CinemaBlend veteran; endlessly enthusiastic about the career he's dreamt of since seventh grade.
Your Daily Blend of Entertainment News
Thank you for signing up to CinemaBlend. You will receive a verification email shortly.
There was a problem. Please refresh the page and try again.